Block Magnets, Bar Magnets red-green 50mm x 30mm x 10mm FerriteY35
holds 2 kg
Block magnets feature straight edges and are available in all proportions from cubes through to flat rectangular bars. Ferrite blocks are available in sizes from approx 10mm length up to 150mm length, with pull strengths exceeding 12kg. Block (or bar) magnets have completely flat surfaces that are perpendicular (at right angles) to each other, and are available in all scales from cubes through to long rectangular prisms. The dimensions for blocks are Length x Width x Height (mm).
The Red/Green Go/No Go Yes/No Magnet is a plastic coated ferrite magnet that can be used as a planning magnet, warehouse magnet or notice board magnet. One side has a Green plastic coating; the other side has a Red plastic coating. Simply turn the magnet over to swap the main colour seen. With an operating temperature of up to 250 ° C can also be labeled easily hot parts.
Just change the magnets on the main color!
The Red/Green Go/No Go Yes/No Magnet can be used to show if a warehouse bay has been allocated for stock, or it can be used on a planning board or a notice board to show is a process is on hold or is in progression, or it can be used to indicate any of, for example, Yes or a No, Open or Closed, Start or Stop, Go or NoGo, Clear or Not Clear, Available or Unavailable, In or Out, etc, etc. The Red/Green Go/NoGo Yes/No Magnet is also powerful enough to hold paperwork to notice boards.
The potential uses are limitless!
The Red/Green Go/No Go Yes/No Magnet can also be produced with different colour combinations (subject to a minimum order quantity – please contact us for a quotation).
Color combinations:
White/Black, Yellow/Red, Orange/Yellow, Blue/Yellow, Black/Blue and Purple/Green, etc.
Special-Signal Magnet:
Ideal for industrial purposes, as operational up to 250 ° C. Whether. In manufacturing, QA, receiving or logistics, the magnets are an ideal tool to discarded or shared must be marked as simply as possible, without leaving residues With an operating temperature of up to 250 ° C can also be labeled easily hot parts.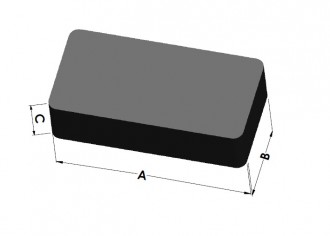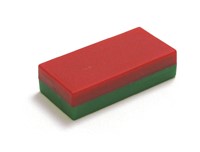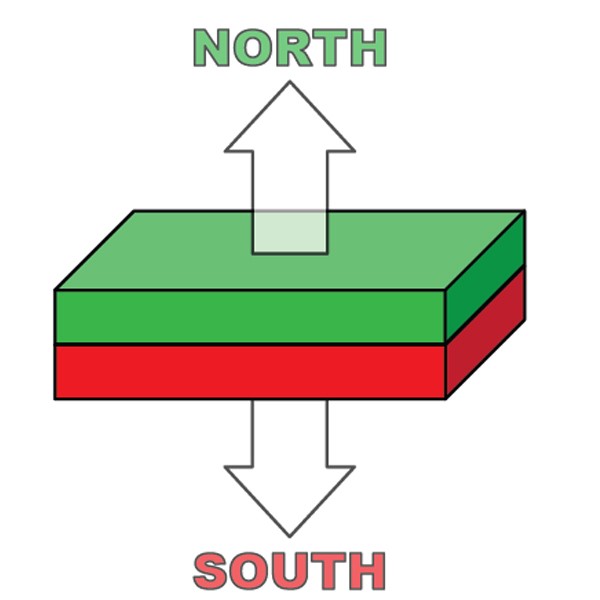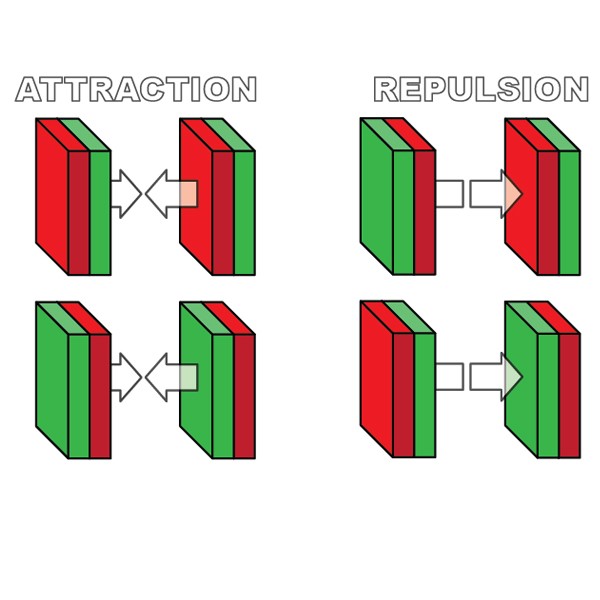 | | | | |
| --- | --- | --- | --- |
| LxWxH mm | Magnetised | Grade | Weight g |
| 25x10x10 | axial | Y30 | 12,9 |
| 40x20x10 | axial | Y35 | 41,3 |
| 60x20x15 | axial | Y35 | 86,0 |
| 100x100x25 | axial | Y30 | 1250 |
| 150x100x20 | axial | Y35 | 1473 |
Block Magnets, Bar Magnets red-green 50mm x 30mm x 10mm Ferrite, Y35, pull 2 kg
Length 52mm x Width 30mm x Thickness 10mm. Plastic Encased Ferrite Block.
Pull Away Strength 2kg magnet to direct contact with 3mm thick flat surface of mild steel.
Polarity Identifiers: Red = South Pole Green = North Pole.
Very strong! Use these magnets to determine north and south poles when working with other magnets or metals. Also ideal for educational purposes as their durable plastic case makes them safe to handle.
Popular as a promotional tool - stick your company logo on and they make a nifty business card.
Weight: 30 g
Applications of ferrite magnets
The ferrite magnets lend themselves to a variety of applications: from simple, such as magnetic locks for furniture or leather, magnetic lifters or magnetic separators, to the most sophisticated electric micromotors, which represent, along with speakers and some special magnetic applications, the areas of interest.