Clear Magnetic Document Pockets A3 format
finished Size: 43,5 cm x 31,2 cm
Displaying documents in an orderly fashion can be difficult. It is vital to show information to the appropriate people without worrying that the documents will become dirty or lost. The answer to this problem is our Document Display Pockets - Magnetic Backed. These Document Display Pockets can display the documents whilst protecting them. The magnetic backing allows the pockets to be attached to nearly any metal surface, including steel.
The range of colours available for these pockets is: Green, Blue-Grey, Light Grey, Dark Blue, Transparent, Yellow, Orange, White, Black and Red. Other options include our Velcro type (hook/loop backed) of document pockets. The hook and loop backed pockets can transform a felt board or a whiteboard into an information display or company noticeboard. The adhesive pockets can be attached to any flat surface, offering endless options. The choice of colours is as shown above.
An additional display option includes our Cascading Document System with standard or mixed colours. This system utilises metal pockets to display a wide variety of documents. The system can be magnetic or wall mounted.
Key Features:
Magnetic fixing, ideal for use with a range of applications including fixing to racking and shelving beams for product identification
Transparent covers available to protect documents
Choice of colours: Green, Dark Blue, Red, Yellow, Orange, White, Transparent, Light Grey, Blue-Grey, Black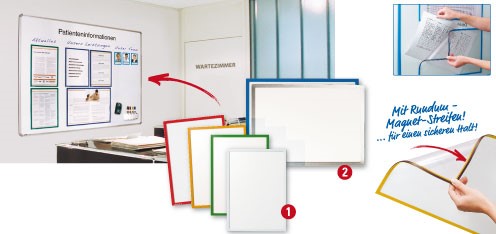 Manufactured after 2013/01/01, The object of the declaration described above is in conformity with DIRECTIVE 2011/65/EU OF THE EUROPEAN PARLIAMENT AND OF THE COUNCIL an the restriction of the use of certain hazardous substances in electrical and electronic equipment.
Colour coded frames to suit A2, A3, A4 and A5 documents. Perfect for displaying important information in shops restaurants, libraries, general workplace and in particular 5S and LEAN manufacturing environments.
A range of document pockets to suit most paper sizes A3, A4, A5, A6 and A7 most available in horizontal and vertical formats and in a choice of magnetic, self-adhesive, tie on or clip on fixings to suit various applications. For further details
Magnetic Display pocket for A4 format, Finished Size: 43,5 cm x 31,2 cm, 5 pieces
Colors: Orange - RAL 2003, red - RAL 3020, blue - RAL 5015, green - RAL 1.70505, yellow-green - RAL 6018, white - RAL 9010, gray - RAL 7001, black - RAL 9005, silver - RAL 9006
Design: magnetic, Temperature resistance: from -25 ° C to + 60 ° C., Depth: 3 mm, Material: anti-reflective PVC sheet. UV-resistant.
Technische Spezifikationen:
| | |
| --- | --- |
| Magnosphere - Artikelnummer | 1078 |
| Form / Modell | Magnetic Document Pockets |
| Dimension | A4 - 31,2 cm x 22,5 cm |
| Color | Orange - RAL 2003, red - RAL 3020, blue - RAL 5015, green - RAL 1.70505, yellow-green - RAL 6018, white - RAL 9010, gray - RAL 7001, black - RAL 9005, silver - RAL 9006 |
| Toleranz | + / - 0,1 mm |
| Max. Einsatztemperatur | 55°C |
| Application | Perfect for displaying important information in shops restaurants, libraries, general workplace and in particular 5S and LEAN manufacturing environments. |
| Packaging | 5 units |