Magnetic Blocks Bar Magnet 60 x 40 x 15mm Ceramic Ferrite Y35
holds 6 kg
Block magnets feature straight edges and are available in all proportions from cubes through to flat rectangular bars. Ferrite blocks are available in sizes from approx 10mm length up to 150mm length, with pull strengths exceeding 12kg. Block (or bar) magnets have completely flat surfaces that are perpendicular (at right angles) to each other, and are available in all scales from cubes through to long rectangular prisms. The dimensions for blocks are Length x Width x Height (mm).
Ferrite magnets can be used in a wide range of applications due to their high coercivity and low cost. They also have good machining properties which allows them to be cut into different shapes and sizes - they are cut with diamond tooling; standard drills and wire spark erosion techniques do not work. Ferrite has an excellent resistance to demagnetisation/corrosion, however care must be taken when handling the product due to its brittleness. Ferrite magnets can be used up to +250 degrees C making it ideal for use in electrical machines. At sub-zero temperatures e.g. less than -10 to -20 deg C, ferrite may start to show a reduced pull force (the temperature and the degree of weakening depends on the magnet shape and is application specific; for most uses this effect does not happen as the magnets never get that cold).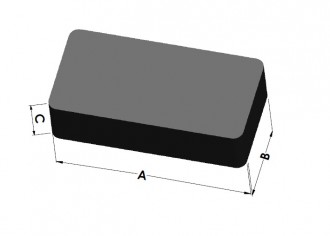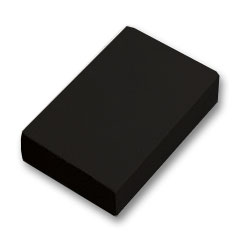 Applications of ferrite magnets
The ferrite magnets lend themselves to a variety of applications: from simple, such as magnetic locks for furniture or leather, magnetic lifters or magnetic separators, to the most sophisticated electric micromotors, which represent, along with speakers and some special magnetic applications, the areas of interest.
Block Magnet, Bar Magnet 60mm x 40mm x 15mm
Magnetic-model: block, ferrite, Coating: uncoated, magnetization quality: Y35
Maximum Temperature: 250 ° C, the magnetization direction: axial, total weight: 172 g
Total: 36000 mm³, overall width: B 40 mm, Total height: H 15 mm, total length L 60 mm
Technical Specifications:
| | |
| --- | --- |
| Product code | 1916 |
| Shape | Block / Bar / Cube |
| Dimensions | 60mm x 40mm x 15mm |
| Length | 60 mm |
| Width | 40 mm |
| Height | 15 mm |
| Volume: | 36000 mm³ |
| Material | Fe2O3 ( Ferrit ) |
| Quality | Y35 |
| Coating | uncoated |
| Total weight | 172 g |
| Max. Temperatur | 250 °C |
| Remanence Br (kG) | 4,1 |
| Remanence Br (T) | 0,41 |
| Coercivity bHc (kOe) | 2,6 |
| Coercivity bHc (kA/m) | 208 |
| Coercivity iHc (kOe) | 2,7 |
| Coercivity iHc (kA/m) | 212 |
| Energy product (BxH) max MGOe | 3,8 |
| Energy product (BxH) max kJ/m³ | 30,4 |
| Flux density (Gauss) | * |
| Sliding resistance (Kg) | * |
| Adhesive force (Kg) | 6 kg |