Multifunctional Magnetic Clips silicone, strong magnets red, set of 4 clips
- multifunctional magnetic photo clips, magnetic clip cable organizer, holds earbuds in place, keep cables organized -
Multifunctional magnetic clips for photos and notes, magnetic clip cable organizer. Handy Italian designed clips for music and photography lovers.

Unusual magnetic clips Clip-Hop will be an excellent help to organize the wires of your gadgets or to display for your photos! The clippers will make sure not to mess the headphone wires, as well as to aesthetically display favorite photos. The set includes 4 magnetic multifunctional clippers. Great gift for music lovers.
Gifts for music lovers that rock! Discover unique range of music inspired home, kitchen & lifestyle accessories, Italian design musical gifts. Explore Magnosphere, you will find something for the foodie and something for the free spirit, something for the unashamed hipster and something for corporate warrior. Whether your stage is the comfort of your home, the urban jungle, or the office battlegrounds, there is really something for everyone. Enjoy Magnosphere unique designer gifts. Our design products will make perfect gifts for musicians and music lovers.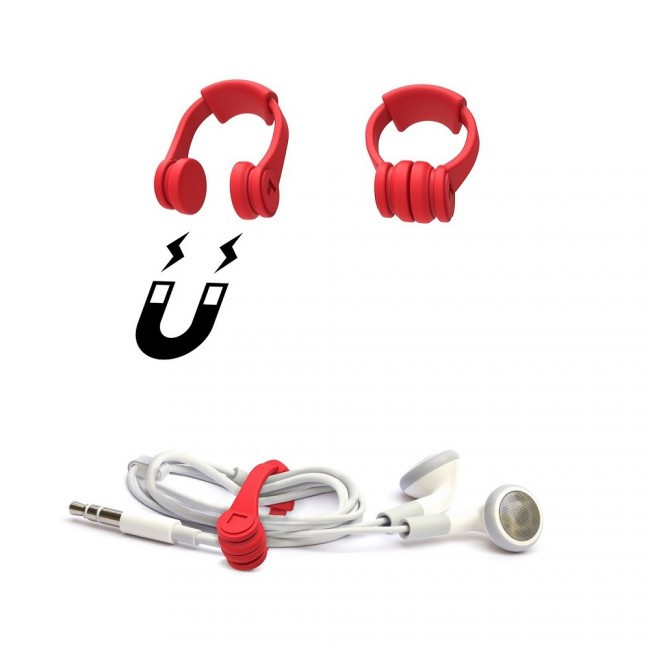 Key Features
Set of 4 magnetic clips
Multifunctional magnetic photo clips, magnetic clip cable organizer
Holds earbuds in place, keep cables organized
Soft silicone body
Strong magnets
Designer gift for music lovers
Multifunctional magnetic clips for photos and notes, magnetic clip cable organizer. Handy Italian designed clips for music and photography lovers
Color: red, set of 4 magnetic clips
Multifunctional magnetic photo clips, magnetic clip cable organizer
Designer gift for music lovers, holds earbuds in place, keep cables organized
Soft silicone body, strong magnets
Technical Specifications:
| | |
| --- | --- |
| Magnosphere - Artikel number | 1713 |
| Form / Model | Multifunctional Magnetic Clips Clip |
| Material | Silicone, strong magnets |
| Dimension | 2,8 x 3 x 1 cm |
| Dimension with packaging | 19.5 x 15 x 1.5 cm (7 3/4" x 6" x 1/2") |
| Color | red |
| Weight | 20 g |
| Application | Multifunctional magnetic clips for photos and notes, magnetic clip cable organizer. Handy Italian designed clips for music and photography lovers |