Color A3-A6 Magnetic Document Holder, Frames and Pockets

Our Colored A3 to A6 Magnetic Document Holder Pocket is an ideal way to display and organise documents, available in A3 and A6 sizes and seven colour choices black, grey, blue, red, yellow, green and orange. They are used in many different environments where easy and quick access to important information is key. An A4 or A3 magnetic document holder can perform various functions from being an aid to promotion, such as displaying information sheets and other marketing materials, or a workplace efficiency aid in storing everyday documentation such as job cards, forms and notices.
Magnetic Pockets - Document Frames
Magnetic pockets help you to easily label your inventory to keep track of your goods in the warehouse and during the production process. Whether equipped with neodymium or stripe magnets: The pockets are high-quality products and can be used flexibly in the company.
Our Magnetic Pockets are versatile visual communication tools which help plan, schedule, and organise any work environment. Make quick changes and interchange information as often as needed with these reusable magnetic holders and pockets. Made from soft yet sturdy material that won't scratch surfaces when mounted or removed, their magnetic backs adhere to any ferrous metal surface.
Our Magnetic Card Holders, similar to our Magnetic Labels, are made of strong, flexible magnetic material and are made with a protective plastic sleeve on the front surface. This is great for labelling items as the internal piece of cardboard can be replaced with a different label and therefore re-used as often as needed! This Magnetic Card Holder is available in various sizes and upon request in custom sizes.
---
Magnosphere magnetic frames in A3 or A4 is the easy way to implement professional signage in a matter of moments. Our innovative range of indoor signage solutions which instead of requiring tools and permanent fixings, used self-adhesive, magnetic and self-cling attachment options to create an affordable and professional magnetic signage solution.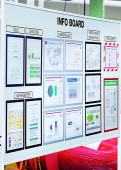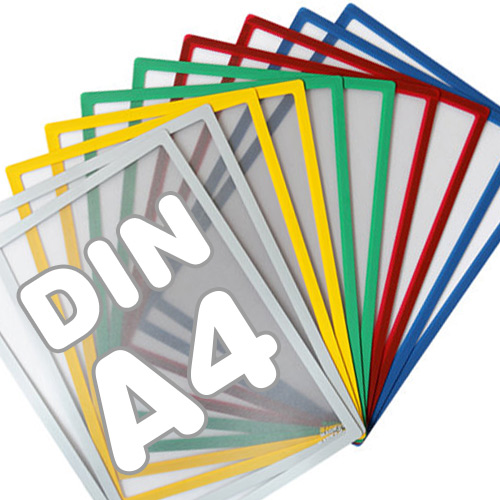 PURCHASE NOW AT MAGNOSPHERE - MAGNETIC POCKETS, Format: A3, A4 available in black, gray, red, blue, green, orange and yellow
Wholesale prices: Click here to request quote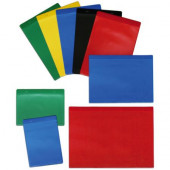 PURCHASE NOW AT MAGNOSPHERE - Magnetic colour document pouches
Wholesale prices: Click here to request quote
---
What is a magnetic pocket and which versions are available?
Magnetic pockets are pockets made of plastic equipped with a magnet on the upper side. You can put important papers in the pocket and attach it to a magnetic adhesive surface such as a metal transport and storage container.
---
Main Product Details:
PROFESSIONAL SIGNAGE: Present information and signage in a professional way with our range of stylish magnetic fold-back frames which can be installed in seconds.
QUICK AND EASY: Inserts can be removed and replaced in seconds thanks to the brilliant fold-back magnetic frame which securely holds the documents in place.
VERSATILE: Thanks to the magnetic backing on the frame, it is easy to attach to all magnetic surfaces e.g. whiteboards, blackboards, lockers and production machinery. Can also be used in both portrait and landscape format.
SECURE: The strong magnetic backing securely holds the documents in place on the chosen surface so you do not have to worry about the inserts dropping out.
AREAS OF APPLICATION: Magnosphere Magnetic Frame is the ideal signage solution for displaying documents e.g. working procedures such as safety and maintenance checks, documentation and operational information for machinery.
---
How to use the magnetic pockets in the operation
Due to their flexibility in application, the magnetic pockets should be part of the basic company equipment in industry and trade. Shipping to a private or business customer or labelling in the storage - the PVC pockets allow you to attach documents of any kind quickly and safely.
Whereas the magnetic stripe pockets can be attached primarily to smooth and magnetic surfaces such as magnetic boards, metal containers and shelves, the neodymium magnetic pocket can additionally be installed on steel beams, grid boxed, metal walls, and metallic machine components, transport containers and trolleys.
Magnetic pockets can be applied in different corporate areas such as storage, workshop, logistics, production, and for the whole flow of goods as well as for labelling in show- and training rooms. Since the magnetic stripe pockets are ideal for indoor use, they are often utilized for office organization. However, the neodymium magnets are stronger and are also appropriate for outdoor use such as shipping of goods.
plastic pockets with magnetic force have numerous advantages to support you in your work routine. Although the neodymium magnetic pocket is known for its particularly strong hold and the magnetic stripe pocket for its low price, they do have certain advantages in common:
You can easily attach the PVC pockets on all metallic containers, shelves and packaging and remove them again without any residues.
The document pockets can be reused effortlessly and contribute to sustainability.
All pockets protect your documents from dirt. The version equipped with a flap also additionally protects against moisture.
Thanks to the coloured back, you can use the plastic pockets flexibly in the operation and, for example, implement a colour coding system or generate any other signalling effect with this feature.
---
Who supplies high quality Magnetic label holders?
Magnosphere produces magnets at great prices, produced and delivered on time for all areas of industry, automotive, aerospace, electronics as well as in the design sector, trade fair construction, offices and for the home.
We are an ISO certified shop and carry the Trusted Shops seal. We have successfully completed more than 200,000 orders and offer our ever-growing customer base 24/7 customer service.
All items are available for immediate delivery in large numbers with daily dispatch. Our selection is your win! Thousands of satisfied customers! Buy from a company with the highest quality standards and customer service with flexible and diverse payment options and conditions.
We can also custom manufacture these to fit your exact specifications using our in-house global manufacturing facilities and team of experienced engineers. Need high quantities of magnets at the lowest and fairest price possible? Just let us know what you are looking for and contact our Customer Care Team by sending us a request for quote! We'll work with you to determine the most economical way of providing you with what you need.
Trust in our experience and convince yourself of our service and our products and we look forward to welcoming you to our magnet shop at Magnosphere. You are welcome to contact us by eMail: info(at)magnosphere.co.uk. Available 24/7 x 365 and we are also there for you on public holidays! Or just give us a call.
---
ROHS-Directive

Magnosphere conforms to the RoHs directive and the Reach and PFOS regulations. Directive 2002/96 / EC of the European Parliament and of the Council, of January 27, 2003, on waste electrical and electronic equipment (WEEE).
---

We are very proud to offer excellent customer service. We know that without our clients, we would not be here. If you have any questions about your order or something else, please call or email us!: info(at)magnosphere.co.uk
24 / 7 x 365 Including holiday periods! Our customer service team is available to help you!