Magnetic Sign Label Holder with side opening size: 8,6cm x 8,6cm – 100 pieces
- secures your sign insert behind the clear lens cover and allows for quick label changes -
Magnetic sign holders are perfect for displaying and protecting printed signs that must be available or changed frequently.
It's easy to insert your sign into the long side opening. The clear cover protects it, and the strong magnetic backing assures firm hold to any metal surface without sliding or flying off. Use them on metal doors and lockers, file cabinets, metal shelving and carts, machinery, metal walls and surfaces painted with magnetic paint. The anisotropic 1.5 mm thick magnetic sheet on which the pocket is attached, guarantees optimal adhesion. This enables you to use our label holder in connection with our ferromagnetic receptive sheets, if for example you would like to attach the label to wooden shelves.
Reuse this affordable, customizable, and repositionable self adhering magnetic display label sign holder on any ferromagnetic receptive surface. Installs in seconds simply peel, position and insert your custom label. The magnetic closure creates a professional look, secures your label insert behind the clear lens cover, and allows for quick label changes. Special adhesive allows the sign holder to be repositioned, used anywhere indoors. When adhered to glass or transparent surfaces the magnetic label frame sign message becomes visible to both sides.
They're a cost-effective solution for:
Work schedules
Events
Employee information
Licenses and certificates
Reminders
Details:
label holder with side opening
credit card size or bigger
your message neatly displayed and protected
easy to relocate
quality solution to clear shelf labeling
for interchangeable labels in various formats
perfect fit through double neodymium fixation
suitable for scanner
Reuse as often as desired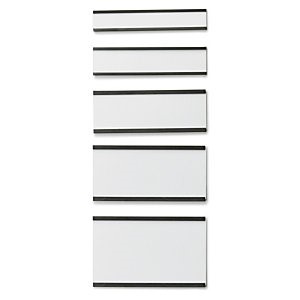 Manufactured after 2013/01/01, The object of the declaration described above is in conformity with DIRECTIVE 2011/65/EU OF THE EUROPEAN PARLIAMENT AND OF THE COUNCIL an the restriction of the use of certain hazardous substances in electrical and electronic equipment.
Magnetic Sign Label Holder with side opening size:8,6cm x 8,6cm - 100 pieces, Inside dimension: 1,5 mm x 8 cm x 8 cm, External dimension: 1,5 mm 8,6 cm x 8,6 cm
Magnetic clear plastic holders stick to virtually any clean, flat surface, ideal for quickly labeling metal shelves, bin, drawers, file cabinets and more.
Holds bar codes or product location cards on racks, shelves, bins and totes - insert adhesive label with liner still intact (eliminate messy or torn labels)
Larger pouches protect documents such as maintenance schedules, service records, manuals, instructions, or warranties on equipment, appliances, furnaces, and control boxes (electrical, security alarm, utilities, etc.
Clear, scan-through vinyl pouch, opens on the long or short side
Technical Specifications:
Item Number:

812

Packing quantity:

100 pieces

Shape:

Magnetic Sign/Label Holders

Dimension:

Inside dimension: 1,5 mm x 8 cm x 8 cm

External dimension: 1,5 mm x 8,6 cm x 8,6 cm

Strength:

1,5 mm

Coating:

uncoated

Color:

dark brown

Material:

Magnetic Sheet

Adhesive force (kg):

90g/cm2

Max Temp (° C):

55

Securing

magnetic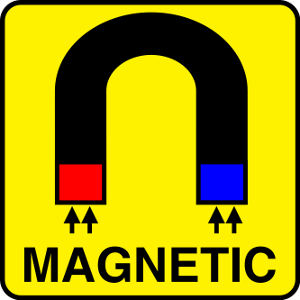 Magnetische Etikettenhalter für Labels/Etiketten Grösse:8,6cm x 8,6cm,100 Stück - Vorstellung