Magnetic Knife & Tool Holders
Magnetic Knife Holder / Magnetic Knife Rack

Magnetic Knife Holders / Racks are suitable for securing kitchen knives & metallic utensils. Ideal for use in restaurants, home, office. Powerful Neodymium inside. Our Magnetic Holders keep your spaces organized and your tools and knives within easy reach. Available in different lenghts.
Magnetic Knife Holders / Strips
The best Magnetic knife holder or magnetic knife strip for your daily use. The perfect elegant solution to safely and conveniently store your knifes. These magnetic racks are perfectly designed to provide a magnetic storage space for kitchen knives or workshop tools. Use these wall-mount magnetic rack to store cutlery safely above your countertop and within reach.
Magnetic strips in the metal frame hold knives and other steel kitchen tools.
Tools stay within easy reach at a safe height.
Great for odd-sized cutlery that won't fit in a knife block.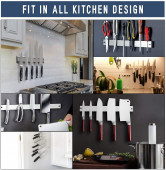 PURCHASE NOW AT MAGNOSPHERE - Magnetic Knife Hollder 500 mm length
Wholesale prices: Click here to request quote
---
Stainless steel
The magnetic knife holder is made of high quality stainless steel for long-lasting shine, is rustproof, durable and easy to clean. The modern design of the magnetic knife holder is both a good helper for your kitchen and a decoration for the kitchen.
Strong magnetic force
Our magnetic knife holder is made of the highest quality stainless steel and a trusted magnet, making it the most reliable and elegant addition to your kitchen you can always rely on.
Widely used
The magnetic knife holder is easier to assemble, you can quickly and easily mount it on the wall. In addition, the space-saving design of the magnetic knife block saves valuable counter space so you no longer have to worry about overcrowded worktops.
The magnetic knife holder is easier to assemble, you can quickly and easily mount it on the wall. In addition, the space-saving design of the magnetic knife block saves valuable counter space so you no longer have to worry about overcrowded worktops.
Strong magnetic force
The sleek, modern and space saving design of our tool organizer saves valuable worktop and workbench space and helps to make your work easier and joy in preparing food for your family.
500 mm length
The 20 inch long holder offers more than enough space for multiple knives and large kitchen cooking sets. The multi-functionality of the strip also allows you to attach metal objects such as scissors and screwdrivers to help with a variety of tasks.
Great Gift
Use this magnetic holder in the kitchen, office, laundry room or garage to hold metal items.
---
Magnetic Knife Racks
Keeping knives on these good looking magnetic racks keeps sharp knives out of harm's way. People who use knives for a living need to keep them close at hand. Housed on magnetic knife holders these vital tools of trade are easy to find, retrieve and replace. Chefs and kitchen hands, butchers, home cooks and merchant displaying knives for sale love these magnetic forms.
Available in bold stainless steel, timber decorated, traditional black or modern white, these magnetic knife holders or racks are easy to attach wherever they are desired using the accompanying screws. Safely secured in plain sight, these dedicated designer sections present all available knives like a faithful servant.
---
Magnetic Knife Racks are ideal for securing kitchen knives!
Knives displayed on magnetic holders in a retail environment highlights the products availability. Magnetic display encourages curiosity and tactile engagement with potential customers. 'How does it float like that?' is soon answered with intuitive pull release as the knife handle finds its purpose, a human hand. The famous magnetic 'click and stick' return inspires confidence, leading to the next knife handle on the magnetic rack.
---
Buy Strong Magnetic Knife Racks with powerful Rare Earth magnets inside
Magnosphere produces magnets at great prices, produced and delivered on time for all areas of industry, automotive, aerospace, electronics as well as in the design sector, trade fair construction, offices and for the home.
We are an ISO certified shop and carry the Trusted Shops seal. We have successfully completed more than 200,000 orders and offer our ever-growing customer base 24/7 customer service.
All items are available for immediate delivery in large numbers with daily dispatch. Our selection is your win! Thousands of satisfied customers! Buy from a company with the highest quality standards and customer service with flexible and diverse payment options and conditions.
We can also custom manufacture these to fit your exact specifications using our in-house global manufacturing facilities and team of experienced engineers. Need high quantities of magnets at the lowest and fairest price possible? Just let us know what you are looking for and contact our Customer Care Team by sending us a request for quote! We'll work with you to determine the most economical way of providing you with what you need.
Trust in our experience and convince yourself of our service and our products and we look forward to welcoming you to our magnet shop at Magnosphere. You are welcome to contact us by eMail: info(at)magnosphere.co.uk. Available 24/7 x 365 and we are also there for you on public holidays! Or just give us a call.
---
ROHS-Directive

Magnosphere conforms to the RoHs directive and the Reach and PFOS regulations. Directive 2002/96 / EC of the European Parliament and of the Council, of January 27, 2003, on waste electrical and electronic equipment (WEEE).
---

We are very proud to offer excellent customer service. We know that without our clients, we would not be here. If you have any questions about your order or something else, please call or email us!: info(at)magnosphere.co.uk
24 / 7 x 365 Including holiday periods! Our customer service team is available to help you!