Matte White Vinyl Magnet Sheet 0,4mm x 31cm x 50cm
- Flexible magnet with matte white vinyl printable surface. Great for P.O.P. displays, vehicle signs, and much more -
Magnetic sheet can be used as visual advertising carrier - it can be easily mounted/dismounted onto the surface and it does not damage the ferromagnetic surface as standardly used adhesive foils. The graphics can be realized by screenprinting, offset or other printing technology. Magnetic holding force depends on type and thickness of ferromagnetic surface onto the magnetic sheet will be applied. Magnetic sheet can be easily cut by scissors, knife or die-cut into desired shapes.
We offer magnetic sheet in thicknesses of 0,3, 0.4, 0.5, 0.7, 0.9, 1,5 mm and 2.0 mm in rolls of 30 mtr or 10 mtr length, roll width is 620 mm or 1000 mm in standard (plain brown), white matte and adhesive execution.
We can also supply magnetic sheet cut into arks, standard or custom-made shapes upon request. We can supply it in all thicknesses (0,3, 0.4, 0.5, 0.7, 0.9, 1,5 mm and 2.0 mm) and executions (plain brown, white matte, adhesive, colour).
Magnetization pattern: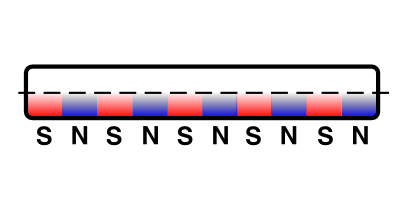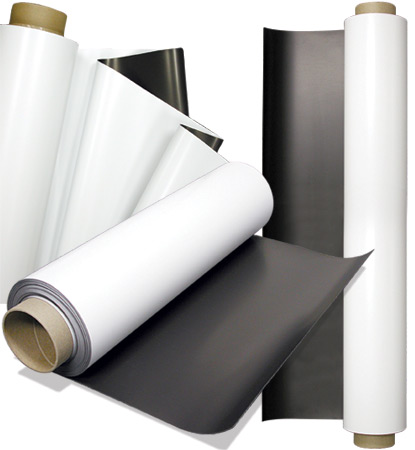 Adhesive force g/cm2 measured with a direct connection |

without air gap

material thickness | magnetization

Adhesive force g/cm2

0,3 mm

14 g/cm2

0,4 mm

32 g/cm2

0,5 mm

37 g/cm2

0,6 mm

39 g/cm2

0,7 mm

40 g/cm2

0,8 mm

52 g/cm2

0,9 mm

80g/cm2

1 mm

83 g/cm2

1,5 mm

92 g/cm2

2 mm

105 g/cm2

3,2 mm

180 g/cm2
Matte White Vinyl Magnet Sheet 0,4mm x 31cm x 50cm
Flexible magnet with matte white vinyl printable surface. Great for P.O.P. displays, vehicle signs, and much more. "Mil" is a magnet industry term that stands for thousandth of an inch. The higher the mil the thicker and stronger the magnet.
Printable and easily cut with scissors, magnetic sheets with white vinyl are provided with a special coating to prevent scratches on the support surface.
Available in rolls or cut to your required size, magnetic sheets are ideal print media matching the specific needs of Point-Of-Purchase display. Magnetic sheeting can also easily be turned into a quick-change display solution when used with Ferro print media.
Think FRIDGE! Fridge magnets are a fantastic, cost-effective promotional tool and can be used in ANY industry. We have magnetic sheet in the perfect specifications for creating fridge magnets to make your brand more attractive!
Technical Specifications:
| | |
| --- | --- |
| Item Number: | 445 |
| Packing quantity: | 1 piece |
| Shape: | Cut to size |
| Dimension: | 31 cm x 50 cm |
| Strength: | 0,4 mm |
| Coating: | PVC |
| Color: | white matt |
| Material: | Magnetic Sheet |
| Adhesive force (kg): | 32g/cm2 |
| Max Temp (° C): | 55 |
| Securing | magnetic |