Matte White Vinyl Magnet Sheet 1mm x 20cm x 50cm
- Flexible magnet with matte white vinyl printable surface. Great for P.O.P. displays, vehicle signs, and much more -
Magnetic sheet can be used as visual advertising carrier - it can be easily mounted/dismounted onto the surface and it does not damage the ferromagnetic surface as standardly used adhesive foils. The graphics can be realized by screenprinting, offset or other printing technology. Magnetic holding force depends on type and thickness of ferromagnetic surface onto the magnetic sheet will be applied. Magnetic sheet can be easily cut by scissors, knife or die-cut into desired shapes.
Flexible magnet with matte white vinyl printable surface. Great for P.O.P. displays, vehicle signs, and much more. "Mil" is a magnet industry term that stands for thousandth of an inch. The higher the mil the thicker and stronger the magnet.
We offer magnetic sheet in thicknesses of 0,3, 0.4, 0.5, 0.7, 0.9, 1,5 mm and 2.0 mm in rolls of 30 mtr or 10 mtr length, roll width is 620 mm or 1000 mm in standard (plain brown), white matte and adhesive execution.
We can also supply magnetic sheet cut into arks, standard or custom-made shapes upon request. We can supply it in all thicknesses (0,3, 0.4, 0.5, 0.7, 0.9, 1,5 mm and 2.0 mm) and executions (plain brown, white matte, adhesive, colour).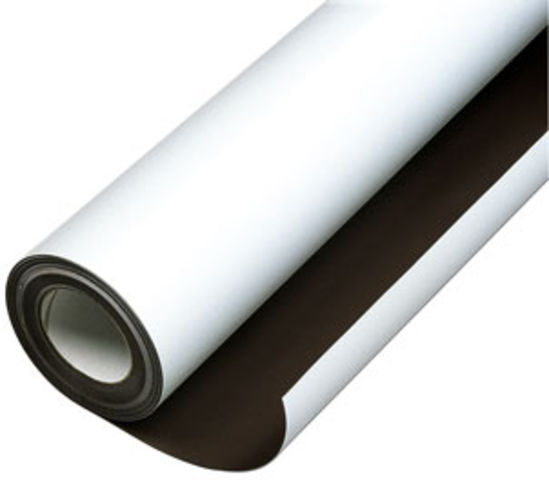 Key Specifications/Special Features
Flexible magnetic sheet can be laminated with adhesive, vinylor paper
Surface treatments: white or color vinyl, paper,adhesive/Double-side tape
Printing: one, double-sided and full-color
Suitable for office appliance, promotional advertising, Vehiclesignage, education, storage label, calendar, menu board,refrigerator doors
Also can print anything on fridge magnet as per your ideas

Manufactured after 2013/01/01, The object of the declaration described above is in conformity with DIRECTIVE 2011/65/EU OF THE EUROPEAN PARLIAMENT AND OF THE COUNCIL an the restriction of the use of certain hazardous substances in electrical and electronic equipment.