5 x Cone Magnet Ø 15/8 x 6 mm Neodymium N42 (NdFeB) Nickel-plated - Force 5 kg
5 pieces - Super Strong Rare Earth Conical Magnets
This Neodymium cone magnet is the optimal pin wall magnet. The conical design helps to easily remove the magnet from any pin wall, because the magnetic force is enormous.
These cone magnets are neodymium magnets with special features: The magnetic flux lines are bundled on the small circular surface (8 mm), and therefore the magnets possess a high adhesive force (approx. 5 kg). The base area has a diameter of 15 mm. The north pole is located on the small circular surface.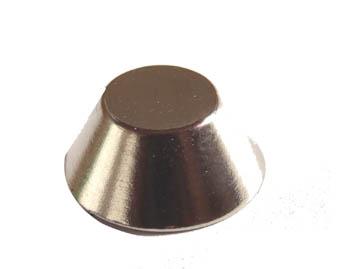 Manufactured after 2013/01/01, The object of the declaration described above is in conformity with DIRECTIVE 2011/65/EU OF THE EUROPEAN PARLIAMENT AND OF THE COUNCIL an the restriction of the use of certain hazardous substances in electrical and electronic equipment.
Cone Magnet Neodymium N42 - Ø 15/8 mm, height 6 mm - 5 pieces
Plating Ni-Cu-Ni ( Nickel )
Vertical pull 5kg
Weight: 5,1 g
Axial magnetized
Technical Specifications:
| | |
| --- | --- |
| Magnosphere - Artikel number | 1035 |
| Form / Model | Cone magnet |
| Material | Neodymium, N42, nickel-plated |
| Dimension | Ø 15/8 mm, height 6 mm |
| Color | silver |
| Tolerance | + / - 0,1 mm |
| Adhesion | 5 kg |
| Application | This Neodymium magnet cone is the optimal pin wall magnet. The conical design helps to easily remove the magnet from any pin wall, because the magnetic force is enormous. |
| Weight | 5,1 g |
| Temperature | 80°C |