Stainless steel magnetic board | Magnetic Strip Bulletin Board | 12 cm x 22 cm
Magnetic board stands apart from the rest with a stainless steel finish. Board is frameless and the surface is silver to perfectly match the sleek, unassuming lines and cool colors of contemporary spaces. Managing your brainstorms and organizing thoughts can often times be a challenge. This board can help simplify the task by providing plenty of space for you to write down your ideas and visualize a plan of action.
As your daily tasks change, and projects evolve, you can easily make updates on your board without any mess. The board is moderately sized and intended for use in small or home office environments. Magnetic quality of the board surface allows it to double as a magnetic bulletin board for greater versatility. Because this board has a blank surface, you can reuse it time and again for multiple needs. It can be a messaging center for family and co-workers to communicate with you, a place for you to hang up a weekly schedule, or a convenient platform for virtually anything else you may need. The smooth frameless edges of this dry-erase board help it blend in wherever you mount it.
Stay organized with an easy to update, stylish magnetic board that doubles as a magnetic bulletin board. Frameless, this board seamlessly blends into the background. The stainless steel finish silver surface complements cool, modern office or home décor.
Magnetic Stainless Steel Bulletin Board Features
Sleek and modern brushed stainless steel magnetic surface.
Quickly and easily mounts to a wall or door (mounting hardware included).
Small, powerful half inch magnets hold securely to memo board.
Super slim profile takes up minimal wall space.
Available in a large or mini size magnetic memo strip.
Large strip bulletin board includes 12 powerful magnets.
Mini size memo board includes six magnets.
Ideal for posting notes, invitations, photos, key rings and more in the home or office.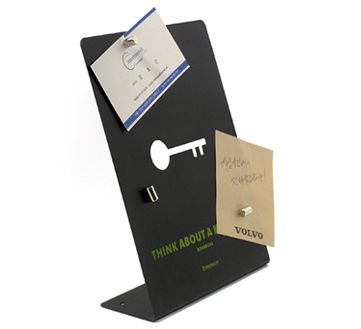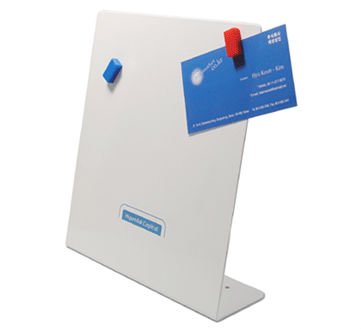 Steel magnetic board, 12 cm x 22 cm
stainless steel
incl. 12 m,agnets
Weight: 0.60 kg
Mounting: brackets, screws, 4 small holes
| | |
| --- | --- |
| Item Number: | 1307 |
| Packing quantity: | 1 piece |
| Form: | stainless steel magnetic wall |
| Dimension: | 12 cm x 22 cm |
| Securing: | brackets, screws, 10 magnets, 4 small holes |