Coloured Magnetic Sheets 0,9mm x 60cm x 1m
- Coloured Flexible magnet with vinyl printable surface. Great for P.O.P. displays, vehicle signs, and much more -
Our magnetic sheet with brightly coloured finish is ideal for creating signs and are available in red, blue, green, yellow and black. Each roll is magnetised with a striped north-south magnetic field giving a secure grip. What's more, each sheet can be rolled twithout cracking and of course, each sheet is made from non-toxic material.
Magnetic sheet can be used as visual advertising carrier - it can be easily mounted/dismounted onto the surface and it does not damage the ferromagnetic surface as standardly used adhesive foils. The graphics can be realized by screenprinting, offset or other printing technology. Magnetic holding force depends on type and thickness of ferromagnetic surface onto the magnetic sheet will be applied. Magnetic sheet can be easily cut by scissors, knife or die-cut into desired shapes.
We offer magnetic sheet in thicknesses of 0.9 mm as metre or 10 mtr length, roll width is 620 mm or 1000 mm in 5 different colours
We can also supply magnetic sheet cut into arks, standard or custom-made shapes upon request. We can supply it in all thicknesses (0,3, 0.4, 0.5, 0.7, 0.9, 1,5 mm and 2.0 mm) and executions (plain brown, white matte, adhesive, colour).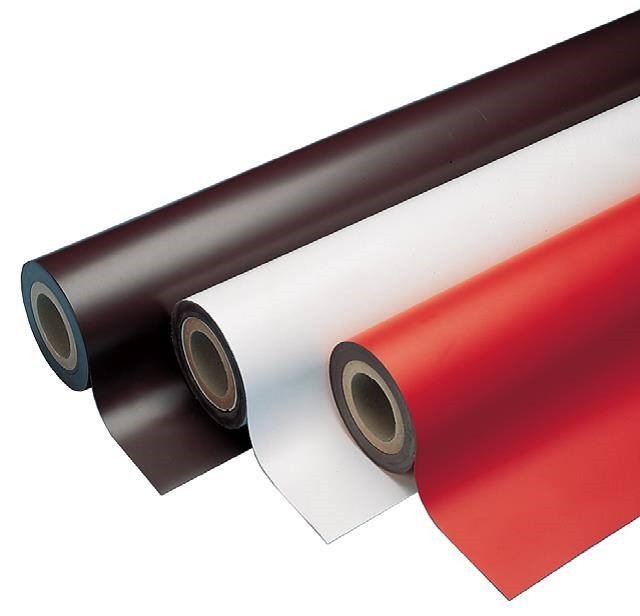 1 metre length
620mm x 0.9 mm thick
Magnetic on one side only with a striped (2mm pole pitch) north-south magnetic field to give a secure grip
Premium gloss red finish on the non-magnetic side
Each magnetic sheet has a pulling force of 80g/cm2
Made from non-toxic, environmentally friendly EN71 material
Adhesive force g/cm2 measured with a direct connection |

without air gap

material thickness | magnetization

Adhesive force g/cm2

0,3 mm

14 g/cm2

0,4 mm

32 g/cm2

0,5 mm

37 g/cm2

0,6 mm

39 g/cm2

0,7 mm

40 g/cm2

0,8 mm

52 g/cm2

0,9 mm

80g/cm2

1 mm

83 g/cm2

1,5 mm

92 g/cm2

2 mm

105 g/cm2

3,2 mm

180 g/cm2

Manufactured after 2013/01/01, The object of the declaration described above is in conformity with DIRECTIVE 2011/65/EU OF THE EUROPEAN PARLIAMENT AND OF THE COUNCIL an the restriction of the use of certain hazardous substances in electrical and electronic equipment.