Magnetic Rubber Sheet with strong holding power

Flexible Magnetic Rubber, Flexible Magnets is a kind of flexible permanent magnetic materials with high power, whose performance is excellent, making them a popular choice for many consumer, commercial, industrial and retail applications. Flexible Rubber Magnets including rolls of Rubber Tape and sheets in a variety of sizes, strengths and colours. An extremely versatile product typically used in display, signage and craft applications. You can out the desired shapes to size easily with a pair of scissors or a craft knife.
Magnetic Sheets
If you like to get creative and enjoy making crafts then our range of Magnetic Sheets may be just what you need. Here you will find a wide choice including rubber steel sheets, printable magnetic sheets, self adhesive sheets and a selection of coloured sheets. Each of these ranges are available in a choice of sizes, so whatever project you have in mind you'll find the materials you need at the Magnet-Shop.
A dry mixture of ferrite powder and rubber polymer resin is mixed, calendered and ground; then formed either by extrusion (for magnetic strip) or rollers (for magnetic sheeting). The material is then magnetized, laminated with vinyl or adhesive, cut to size, rolled onto a core, and boxed for shipment.
Powerful - Magnosphere flexible magnetic sheeting is supersaturated with magnetism in a multiple pole magnetization pattern, so its magnetic strength is evenly distributed across the surface. The thicker the material, the greater the strength. Permanent magnetism is guaranteed as long as the material is not subjected to a demagnetizing force, or magnets with stronger magnetic forces.
Durable - Easy to maintain and safe for finished surfaces. It contains no oils or plasticizers that can cause cracking, drying out or surface migration when properly maintained. See our Flexible Magnet Sheeting Care and Cleaning Guide.
Safe - The material is lead-free and barium-free, making it a non-toxic substrate that is safe to work with and safe for consumers. Meets Rohs standards.
Machinable - Easily drilled or cut with scissors, knife, die, punch, CNC router or flatbed cutter to fit your application.
Temperature Range - Withstands limited exposure to temperatures ranging from –15° F to 160° F without demagnetizing.
---
About Magnetic Sheet
The magnetic sheet is a calendared strontium ferrite magnetic powder within a thermo-plastic binder to create a thin sheet which is then magnetised multiple-pole on one surface. It is a flexible magnetic sheet that will attract and hold onto magnetically receptive surfaces. The magnetic sheet has one magnetic face and can be put against itself to attract magnetically, but it is normally put against a ferromagnetic surface (mild steel sheet, ferrous sheet, etc). The binder is the limiting factor on the maximum operating temperature of the magnetic sheet. Above +80 degrees C the binder starts to soften the magnetic domains to cancel themselves out which results in a demagnetisation. So the maximum operating temperature is +80 degrees C.
---
Our line of flexible magnetic sheeting and strip is ideal for Sign making, Ad specialty, Printing and Magnetic Graphics Systems. Our custom cutting and slitting capabilities, plus a wide range of magnet thicknesses and laminates will meet any customized project application requirement.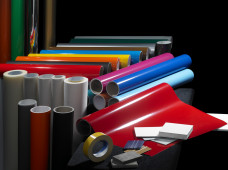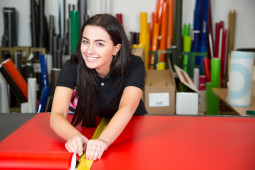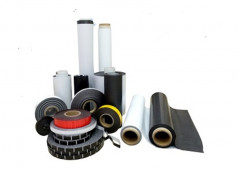 PURCHASE NOW AT MAGNOSPHERE - Colored Magnetic Sheet as rolls or cut-outs
---
Flexible Magnet Sheeting / Magnetic Sheets Vinyl Foil
Magnetic Sheets are very adaptable, versatile and the best alternative when you require a cost effective flexible magnet for your office, factory, warehouse or home. Our Flexible Magnetic Sheeting can be used for a variety of applications such as promotional magnets, invitations, business cards, identifiers, car signs, craft, arts, general hobbies and many other commercial purposes. Magnetic Sheets from AMF Magnetics, have a PVC coating suitable for various kinds of printing as well as writing on with whiteboard markers.
---
Buy Magnetic Sheets and Sheeting by the roll or per metre!
Our Magnetic Sheeting are a specialised range of Flexible Magnets made from Strontium Ferrite powder with a thermoplastic carrier. They are magnetised on one side (back) only and can be stuck onto any ferrous metallic surface. Magnosphere provides a huge range of Sheet Magnets in a variety of colours, sizes and lengths (by the roll or per metre). Choose from Our White, Coloured or Self-Adhesive Magnetic Sheets
---
Magnetic sheets are of following types
Rolling Magnetic Sheets: The rolling magnetic sheets are powerful magnets which find their usage for large-scale advertising ornaments, toys and diversified craft works.
Cutting Magnetic Sheets: The cutting magnetic sheets have their utility for instruments, meters, sensors, advertising ornaments, toys and different kinds of craft-work.
Calendaring Magnetic Sheets: The calendaring magnetic sheet too like rolling magnetic sheet is used for advertising ornaments, toys and various craft works.
Plain Magnetic Sheets:These magnets are without any laminations.
Colored Magnetic Sheets: They are laminated with colored vinyl (PVC).
Self-Adhesive Magnetic Sheet: They are laminated with self-adhesive tape.
---
The Magnetic Performance of Magnetic Sheet
The magnetic performance varies with the thickness of the material. The thinnest magnetic sheet (0.5mm and 0.6mm thick) has a 22 grams per square centimetre pull force rating. The thickest magnetic sheet materials (0.75mm, 0.80mm and 0.85mm thick) have a 44 grams per square centimetre pull force rating. The flexible magnetic sheet is impact resilient.
The magnetic sheet is supplied in 620mm and 1000mm (0.62m and 1m) widths in 10m, 15m and 30m roll lengths (depending on version). We also offer 0.20m x 0.20m square pieces (in 0.75mm thickness). All the flexible magnetic sheet versions have an ultra-violet (UV) coating – this assists with keeping the sheet clean (no blackening of fingers when you handle it – also assists with converting material with other materials such as vinyl backing, adhesive backing, etc). The magnetic sheet material can be easily cut with scissors, craft knife and dedicated plotter cutter. Regular shapes can be cut using inexpensive dies.
---
Variations of Magnetic Sheet
The flexible magnetic sheet comes with different finishes. Plain flexible magnetic sheet has no adhesive or vinyl surface – it is generally used by printing companies who wish to add their own adhesive or printed vinyl by conversion to meet their own specifications or requirements. Adhesive backed flexible magnetic sheet has a standard acrylic adhesive backing layer added to the unmagnetised surface. Such adhesive backed flexible magnetic sheet can be adhered to other materials or surfaces as necessary (e.g. making light-weight parts magnetic).
Vinyl backed flexible magnetic sheet has a vinyl layer added to the unmagnetised surface. Such magnetic sheet can then have the vinyl printed onto to create customised signage and advertising. We supply gloss white vinyl magnetic sheet, and can also supply other colours of gloss vinyl sheets if required. We may also be able to supply customised printed magnetic sheet required. We can supply gloss vinyl flexible magnetic sheets with a dry-wipe finish. We can also supply customised variants of the above and even some alternatives (within reason) such as adding a ferrous layer between the magnetic layer and the vinyl. Please contact us with your requirements..
---
Buy Magnetic Sheet / Flexible Magnetic Materials at Magnosphere and get a better deal!
Magnosphere produces magnets at great prices, produced and delivered on time for all areas of industry, automotive, aerospace, electronics as well as in the design sector, trade fair construction, offices and for the home.
We are an ISO certified shop and carry the Trusted Shops seal. We have successfully completed more than 200,000 orders and offer our ever-growing customer base 24/7 customer service.
All items are available for immediate delivery in large numbers with daily dispatch. Our selection is your win! Thousands of satisfied customers! Buy from a company with the highest quality standards and customer service with flexible and diverse payment options and conditions.
We can also custom manufacture these to fit your exact specifications using our in-house global manufacturing facilities and team of experienced engineers. Need high quantities of magnets at the lowest and fairest price possible? Just let us know what you are looking for and contact our Customer Care Team by sending us a request for quote! We'll work with you to determine the most economical way of providing you with what you need.
Trust in our experience and convince yourself of our service and our products and we look forward to welcoming you to our magnet shop at Magnosphere. You are welcome to contact us by eMail: info(at)magnosphere.co.uk. Available 24/7 x 365 and we are also there for you on public holidays! Or just give us a call.
---
ROHS-Directive

Magnosphere conforms to the RoHs directive and the Reach and PFOS regulations. Directive 2002/96 / EC of the European Parliament and of the Council, of January 27, 2003, on waste electrical and electronic equipment (WEEE).
---

We are very proud to offer excellent customer service. We know that without our clients, we would not be here. If you have any questions about your order or something else, please call or email us!: info(at)magnosphere.co.uk
24 / 7 x 365 Including holiday periods! Our customer service team is available to help you!