Price development for neodymium magnets
Information Permanent Magnet
Magnet Questions & Answers
Magnosphere strong magnets
Protection of personal data
Returns
---
Making Returns to Magnosphere
We accept returns on resalable, non-damaged items within 14 days of delivery to the buyer, and we ask that you reuse as much of the original packing material as possible. Some other things to note when returning items include:
Adhesive magnets

must be returned with their seal packets

unopened.

For safety purposes — and to ensure the usability of the magnet — repackage with the same amount of padding and distance from the outside of the box when originally shipped. Like we said above, you can reuse as much of the original packaging material as possible.

If not packaged correctly, there's a chance the package could be sent back to you by the post office if it's caught in a check with a gaussmeter. In this case, add more padding before trying to resend.

Rare earth magnets are fragile, so handle with care.
Custom orders cannot be returned unless we made a mistake.
We cannot refund original shipping fees or buyer's return shipping cost.
Any order returned to us due to incorrect address we will refunded all but the shipping fees. If you would like us to reship, you must pay the shipping fee.
International orders returned via private carriers like UPS or FedEx are subject to immediate 80% refund; the remaining 20% will be refunded after 90 days if no additional cost to Magnosphere occurs (Duties and Taxes, custom fees, etc.).
If your order was over $200, a 10% restocking fee will be assessed.
In general, refund processing may take several weeks.
---
Procedure
To make use of our Return & Exchange policy, please fill in the enclosed return form. Alternatively you can download this from your online account. To do this log in, chose your order, select the articles you want to return and click on print return form. Afterwards, send your articles together with the return form to the following address:
Magnosphere GmbH, Gierlichsstrasse 27, 53840 Troisdorf, Germany
Tel: +49 2241.959450
Fax: +49 2241.9594520
eMail: info(at)magnosphere.co.uk
You will find more information concerning our return & exchange policy in our FAQ section.
---
How to Safely Seperate Your Magnosphere Magnets?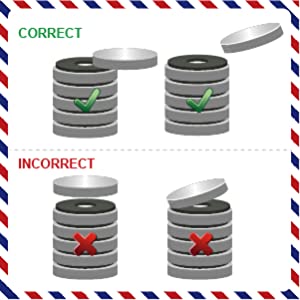 CORRECT
Slide one magnet off the top of the stack.
Once off thestack,carefully start lifting the magnet.
Lift the magnet to free it from the stack.
INCORRECT
DO NOT attempt to pull, lift, or pry amagnet from the stack before sliding it to the side.
DO NOT throw away the white storage spacers.
DO NOT allow the magnets to snap to each other or any magnetic surface. doing so may cause magnets to break!
---
Purchase Now: Neodymium Magnets online
---
We ship our Magnets worldwid via Sea or Air Shipment
---
Buy Neodymium Rectangular Magnets at Magnosphere and get a better deal!
Magnosphere produces magnets at great prices, produced and delivered on time for all areas of industry, automotive, aerospace, electronics as well as in the design sector, trade fair construction, offices and for the home.
We are an ISO certified shop and carry the Trusted Shops seal. We have successfully completed more than 300,000 orders and offer our ever-growing customer base 24/7 customer service.
All items are available for immediate delivery in large numbers with daily dispatch. Our selection is your win! Thousands of satisfied customers! Buy from a company with the highest quality standards and customer service with flexible and diverse payment options and conditions.
We can also custom manufacture these to fit your exact specifications using our in-house global manufacturing facilities and team of experienced engineers. Need high quantities of magnets at the lowest and fairest price possible? Just let us know what you are looking for and contact our Customer Care Team by sending us a request for quote! We'll work with you to determine the most economical way of providing you with what you need.
Trust in our experience and convince yourself of our service and our products and we look forward to welcoming you to our magnet shop at Magnosphere. You are welcome to contact us by eMail: info(at)magnosphere.co.uk. Available 24/7 x 365 and we are also there for you on public holidays! Or just give us a call.
---
ROHS-Directive

Magnosphere conforms to the RoHs directive and the Reach and PFOS regulations. Directive 2002/96 / EC of the European Parliament and of the Council, of January 27, 2003, on waste electrical and electronic equipment (WEEE).
---

We are very proud to offer excellent customer service. We know that without our clients, we would not be here. If you have any questions about your order or something else, please call or email us!: info(at)magnosphere.co.uk
24 / 7 x 365 Including holiday periods! Our customer service team is available to help you!