Magnetic Jewellery & Wellness and well being

Magnetic therapy is practiced world wide for treating various physical problems. Magnetic device when placed on or near the body to relieve pain and facilitate healing. The therapy works on the principle that placing magnets on any part of the body can cure chronic ailments that standard medicine finds difficult. Magnetic therapy is a natural method used to relieve pain, restore energy and enhance sleep! It has proven to be a safe, effective, and economical form of alternative therapy.
Magnetic Therapy - Magnetic Jewelry
Magnetic therapy is practiced world wide for treating various physical problems. Magnetic device when placed on or near the body to relieve pain and facilitate healing. The therapy works on the principle that placing magnets on any part of the body can cure chronic ailments that standard medicine finds difficult.
---
Biomagnetic Therapy Products
Many people are not aware that there are several different types of magnets used in magnetic therapy products. The primary differences between these are material used, strength, and cost. The most commonly utilized types of magnets for use in magnet therapy applications and products are:
Flexible rubber magnets are generally shaped into long strips or flat sheets and are often placed inside insoles in order to treat foot-related problems. Generally speaking, most products which are made of this type of magnet will have a magnetic strength of roughly 200 to 400 gauss, which will vary depending on how thick the magnet is.
Ceramic magnets are regularly used for magnetic therapy wraps, pads, and cushions. These ceramic magnets used in magnetic health products will generally have a strength of around 900 to 1200 gauss at their surface, which will vary depending on the dimensions of a particular magnet.
Neodymium magnets are popularly used in magnetic jewelry, bracelets, and as "spot magnets," which can be utilized, individually, to treat precise locations, or in groups to treat a larger area. Usually, neodymium magnets have a gauss rating somewhere between 1000 to 3000 on the surface of the magnet, varying with shape and size.
Samarium cobalt magnets are usually found in high-quality jewelry where rust prevention is desired. They are generally pretty costly, and are also more brittle than other types of magnets. An average samarium cobalt magnet which is part of a piece of magnetic jewelry will have a gauss rating anywhere from 1000 to 2400, again, which will vary based on the specific size and thickness of the magnet.
Hematite magnets have some inherent biomagnetic therapy properties. Magnetic-hematite is popularly found in the form of beads used in high-quality jewelry. Strands of beads are used in beaded hematite bracelets, necklaces, as well as belts and other pieces of jewelry. For Hematite products, the jewelry itself is magnetic, rather than there being separate magnets contained in the product. A typical hematite magnet jewelry piece will have a gauss strength from approximately 1000 to 2500, which can vary a bit based on the actual size of the individual beads.
---
History
Since ancient periods magnets were used for therapy. Ancient Chinese used magnets for treating various physical disorders. As per ancient Greek folklore lodestones natural magnetic rocks had therapeutic powers. Over the past decade the popularity of magnetic therapy is increasing. There are many peoples who are deriving the health benefits from the magnetic therapy. Due to the increasing popularity many products have been launched in the market . Doctors and researchers however are not convinced regarding medical benefits of the magnets therefore the well designed researches are necessary to convince the medical practitioner to include the magnets in their treatment system.
---
How Does It Work?
Human body is believed to posses the magnetism. The earth to has its own magnetic field. If the magnetic power of the body and the earth gets disturbed certain physical problems arise. When the magnetic products are applied on the body it penetrates the body and cover up the magnetic deficiency thereby giving good health.
---
Physical Benefits
It is believed that people can derive immense medical benefits from the magnetic therapy. The common problems alleviated by the the use of magnetic therapy are:
Arthritis, Achilles tendon, Tendonitis, Back bone problems, Muscular pains, Sciatica, Lumbar spondylitis, Inflammation
Weight reduction, Carpal tunnel syndrome, Tendonitis
Repetitive strain injury, Dupuytren's, Depression
Spondylitis. Cervical, Headache, Depression
Person using pacemaker or an implanted defibrillator he should avoid using magnets as the magnetic field could interfere with its operation. In case you are allergic to the metal use products that are covered in hypoallergenic plastic. During pregnancy period also its use should be avoided. Also avoid sleeping on the magnetic mattress pad for more than eight hours.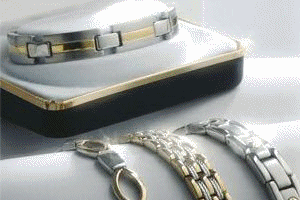 ---
Ankle Magnets
Back Magnets
Elbow Magnets
Head and Neck Magnets
Magnetic Massagers
Knee Magnets
Thigh Magnets
Wrist Magnets
Shoulder Magnets
Magnetic Mattress Pads
Magnetic Jewelry
---
Who supplies high quality Magnetic Therapy Jewelry?
Magnosphere produces magnets at great prices, produced and delivered on time for all areas of industry, automotive, aerospace, electronics as well as in the design sector, trade fair construction, offices and for the home.
We are an ISO certified shop and carry the Trusted Shops seal. We have successfully completed more than 200,000 orders and offer our ever-growing customer base 24/7 customer service.
All items are available for immediate delivery in large numbers with daily dispatch. Our selection is your win! Thousands of satisfied customers! Buy from a company with the highest quality standards and customer service with flexible and diverse payment options and conditions.
We can also custom manufacture these to fit your exact specifications using our in-house global manufacturing facilities and team of experienced engineers. Need high quantities of magnets at the lowest and fairest price possible? Just let us know what you are looking for and contact our Customer Care Team by sending us a request for quote! We'll work with you to determine the most economical way of providing you with what you need.
Trust in our experience and convince yourself of our service and our products and we look forward to welcoming you to our magnet shop at Magnosphere. You are welcome to contact us by eMail: info(at)magnosphere.co.uk. Available 24/7 x 365 and we are also there for you on public holidays! Or just give us a call.
---
ROHS-Directive

Magnosphere conforms to the RoHs directive and the Reach and PFOS regulations. Directive 2002/96 / EC of the European Parliament and of the Council, of January 27, 2003, on waste electrical and electronic equipment (WEEE).
---

We are very proud to offer excellent customer service. We know that without our clients, we would not be here. If you have any questions about your order or something else, please call or email us!: info(at)magnosphere.co.uk
24 / 7 x 365 Including holiday periods! Our customer service team is available to help you!