Magnetic Receptive Material
Steel Balls




Steel Balls are widely used in precision ball bearings and many other industrial applications. Chrome steel balls have exceptional surface quality, high hardness, and high load bearing capacity, as a result of through hardening. Chrome steel balls also offer long life and and deformation resistance.
Precision Steel Balls
We offer a full range of high precision steel balls for automotive, engineering, aerospace and industrial applications. Having a reputation of producing high-quality & most comprehensive range of precision steel balls, we can supply precision balls for applications in around 60 industrial sectors and numerous automotive applications with quality assurance of ISO / TS 16949 certification. We are ready to meet all your requirements with our assurance of continual supply and on-time delivery of standard stocked items and minimal lead times on special orders. .
---
High precision steel balls for every industrial challenge
High precision steel balls for every industrial challenge. Our selection of steel balls spans a wide range of different materials. Being perfectly spherical, as stainless steel ball manufacturers we give them varying properties to suit different needs.
For example, Austenitic varieties have greater corrosion resistance and can be more easily formed thanks to the presence of concentrations of chromium and nickel. Ferritic steel balls are resistant to cracking and are extremely ductile, making them especially suitable for use in automotive settings.
Nitronic precision steel balls are often favored in the aerospace industry due to their resistance to galling, and Martensitic balls are heat treated to give them exceptional strength.
---
Steel balls are a popular choice for use as industrial ball bearings, in automotive engines and valves, machine tools, couplings, and a host of other applications.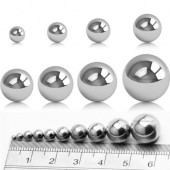 ---
How to combine steel balls with neodymium Rod Magnets
PURCHASE NOW AT MAGNOSPHERE - Steel Balls combined with Neodymium Rod Magnets
Wholesale prices: Click here to request quote
---
Common Applications:
Bikes
Motor Cycles
Hubs
Weighting
Automotive applications
---
Buy high quality Stainless Steel Balls at Magnosphere and get a better deal!
Magnosphere produces magnets at great prices, produced and delivered on time for all areas of industry, automotive, aerospace, electronics as well as in the design sector, trade fair construction, offices and for the home.
We are an ISO certified shop and carry the Trusted Shops seal. We have successfully completed more than 200,000 orders and offer our ever-growing customer base 24/7 customer service.
All items are available for immediate delivery in large numbers with daily dispatch. Our selection is your win! Thousands of satisfied customers! Buy from a company with the highest quality standards and customer service with flexible and diverse payment options and conditions.
We can also custom manufacture these to fit your exact specifications using our in-house global manufacturing facilities and team of experienced engineers. Need high quantities of magnets at the lowest and fairest price possible? Just let us know what you are looking for and contact our Customer Care Team by sending us a request for quote! We'll work with you to determine the most economical way of providing you with what you need.
Trust in our experience and convince yourself of our service and our products and we look forward to welcoming you to our magnet shop at Magnosphere. You are welcome to contact us by eMail: info(at)magnosphere.co.uk. Available 24/7 x 365 and we are also there for you on public holidays! Or just give us a call.
---
ROHS-Directive

Magnosphere conforms to the RoHs directive and the Reach and PFOS regulations. Directive 2002/96 / EC of the European Parliament and of the Council, of January 27, 2003, on waste electrical and electronic equipment (WEEE).
---

We are very proud to offer excellent customer service. We know that without our clients, we would not be here. If you have any questions about your order or something else, please call or email us!: info(at)magnosphere.co.uk
24 / 7 x 365 Including holiday periods! Our customer service team is available to help you!