Magnetic Holder for Smoke Detectors Diameter Ø 70mm

Magnetic Holder for Smoke Detectors Diameter 70 mm, mounting without drilling, these smoke detector magnets replace the cumbersome installation of smoke and fire alarms. There is no risk of hitting wires. One side is self-adhesive, the other magnetic. Extra strong adhesive surface: the self-adhesive surface provides an extra strong hold.
Magnetic Mounting for Smoke Detectors
Safe protection against a silent death. Ideal for apartments, private houses, mobile homes and caravans. Safe installation without tools or mess Installation in less than 5 minutes. No drilling means no worries about drilling into electric or other cables Secure installation for most types of ceilings. Allows simple and easy changing of batteries and smoke detector tests. No danger of cables damaged being while mounting Alternative, self-adhesive mounting possibility of smoke detectors, completely without drilling. Fast and simple assembly without tools and dirt. Suitable for many smoke-detectors, clean and dust-free. The fastening system for Smoke Detectors consists of two parts: a self adhesive COVER-Element for attachment to the ceiling and of a self-adhesive magnets for mounting on 2 socket element with smoke alarms and Magnet Pad for Smoke Detectors - Mounting without Drilling with adhesive Pad.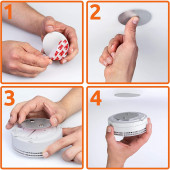 Insects such as flies, wasps, mosquitoes and other undesirable airborne pests are a constant threat to personal comfort, environmental health and hygiene.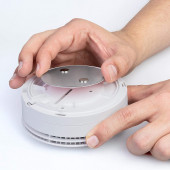 PURCHASE NOW AT MAGNOSPHERE - Magnetic Mount Magnetic Adhesive Pads for smoke detectors
Wholesale prices: Click here to request quote
MOUNT WITHOUT DRILLING: These smoke alarm magnets replace the complicated mounting of smoke detectors and fire alarms. No danger of hitting cables. The smoke alarm plate is self-adhesive on one side, magnetic on the other.
EASY MOUNTING: The attachment of the Smoke detector magnetic holder is a 1-minute install completely without tools. Simply peel off the adhesive film, affix the magnetic sticky pads to the ceiling and press down with light pressure for 10 seconds.
SECURE HOLD: The self-adhesive surface and magnetic attachments offers an extra strong hold. Once mounted, the smoke detector mounting plate will not come loose. With the stick-on smoke alarm, set it and forget it. The maximum load capacity is 500g.
LIGHT BATTERY CHANGE: You will no longer need any tools for battery replacement and func-tion tests with fire and smoke detectors. To remove the fire alarm, push it away sideways from the smoke detector mounting plate.
VERSATILITY & EASY TO BLEND IN: You can simply paint the support plate of the smoke detector adhesive mount without affecting its function. Can be used as a smoke detector ceiling mount, side mount, for crafts, some cameras, and other grounded and mounted products.
---
Magnetic Mount Magnetic Adhesive Pads for smoke detectors
The mounting of smoke and carbon monoxide detectors is not only complicated but can get danger-ous quickly because of the wires in the ceiling. This smoke detector magnetic fixing eliminates this risk and saves you time during installation.
The mounting is done without the need for tools and without drilling. Make sure it is attached to a stable, dry, dust and grease-free area. Please only use alcohol to clean the surface, do not use soap or soapy detergents.
To Install: Just pull off the adhesive film, hold the support plate to the desired surface and press firmly for 10 seconds. The rear side is magnetic and suitable for all standard fire detectors and smoke detectors with at least 8 cm diameter.
---
Buy high quality Magnet Pad for Smoke Detector at Magnosphere and get a better deal!
Magnosphere produces magnets at great prices, produced and delivered on time for all areas of industry, automotive, aerospace, electronics as well as in the design sector, trade fair construction, offices and for the home.
We are an ISO certified shop and carry the Trusted Shops seal. We have successfully completed more than 200,000 orders and offer our ever-growing customer base 24/7 customer service.
All items are available for immediate delivery in large numbers with daily dispatch. Our selection is your win! Thousands of satisfied customers! Buy from a company with the highest quality standards and customer service with flexible and diverse payment options and conditions.
We can also custom manufacture these to fit your exact specifications using our in-house global manufacturing facilities and team of experienced engineers. Need high quantities of magnets at the lowest and fairest price possible? Just let us know what you are looking for and contact our Customer Care Team by sending us a request for quote! We'll work with you to determine the most economical way of providing you with what you need.
Trust in our experience and convince yourself of our service and our products and we look forward to welcoming you to our magnet shop at Magnosphere. You are welcome to contact us by eMail: info(at)magnosphere.co.uk. Available 24/7 x 365 and we are also there for you on public holidays! Or just give us a call.
---
ROHS-Directive

Magnosphere conforms to the RoHs directive and the Reach and PFOS regulations. Directive 2002/96 / EC of the European Parliament and of the Council, of January 27, 2003, on waste electrical and electronic equipment (WEEE).
---

We are very proud to offer excellent customer service. We know that without our clients, we would not be here. If you have any questions about your order or something else, please call or email us!: info(at)magnosphere.co.uk
24 / 7 x 365 Including holiday periods! Our customer service team is available to help you!