Workshop & Warehouse Magnets
Neodymium magnets for notice board, office and fridge

A small, discreet colored plastic magnet, which - despite its small size - is stronger than many large magnets. The magnet can hold 12 A4 sheets or a thick piece of cardboard. Thanks to the ergonomic cap made of light-resistant plastic, it is easy to remove - despite its enormous adhesive force.
Office magnets neodymium
The neodymium magnets with steel caps is perfect for use in presentations at trade shows, at exhibitions, etc. Its extremely strong adhesive force prevents the magnet from sliding when it is inadvertently brushed up against. Stainless steel pin board magnet with adhesion of min. 12 pages DinA4 on a regular white board. A beautiful piece for every pin board or refrigerator due to its stong magnetic force and design. The stainless steel magnets will not damage the object being held and will also not scratch your refrigerator door. We carry strong magnets that are perfectly suitable for magnetic glass boards. The selection of magnets very much depends on the metal and glass thickness of the magnet board.
Add some style to any office or classroom noticeboard. These chrome skittle magnets look great on any noticeboard, filing cabinet or even fridge. As each Skittle Push Pin Magnet has a Large Neodymium Magnet it makes them surprisingly strong for their size and each can hold up to 35 sheets of A4 paper firmly against a metal surface or even magnetic paint. What's more, because of their shape they don't obscure the items being held but are really easy handle, remove and reposition. Bring your office whiteboards to life with our comprehensive range of magnetic visual aids. Highly effective and economical too, they provide a simple, no-fuss way to enhance visual planning and are ideal for use in offices, meeting rooms, training rooms and school classrooms.
Ideal for holding items on Filing Cabinets, Whiteboards, Bulletin Boards, Magnetic Maps and Refrigerators. Perfect for Home and School.
---
This super strong neodymium powered, steel clad warrior can easily hold 20 sheets of 80gsm A4 size paper, more if the metal surface is thicker.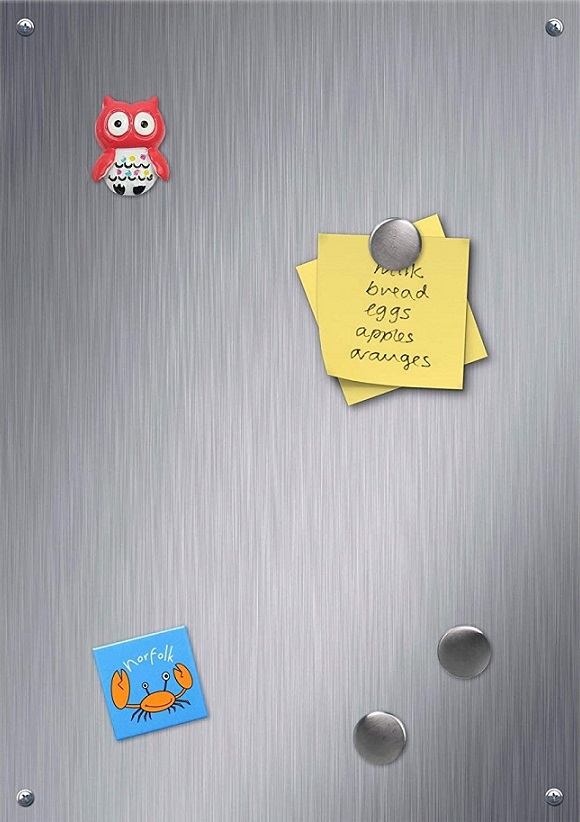 PURCHASE NOW AT MAGNOSPHERE - Stainless Steel Magnet Notice Memo Board
Wholesale prices: Click here to request quote
---
Office Magnets / Planning & Whiteboard Magnets
Our handy and popular office magnets are perfect for the workplace, adhering to any magnetic surface such as filing cabinets, warehouse racking, school blackboards, and ferrous metallic cubicle backings. Also perfect for the home, they can stick to the fridge to display images or important notices. Magnosphere offers a wide and colourful range of whiteboard magnetic pins, made of Ferrite or Rare Earth magnets. They are unusually strong for their size! We also provide Magnetic clips in different sizes and colours such as blue, red, white and green that will hold up a bunch of documents as needed.
---
Office magnets make your daily work easier & organized!
Hold blueprints, calendars, work plans, and to-do lists with our heavy duty magnetic bases with knob, flat hook or slip ring. They're easy to use and a more convenient alternative to using blu-tac and sticky tape and they encourage creativity in their colourful and unique appearance!
Buy strong magnets for the office online from Magnosphere - Uk's leading supplier of magnetic products.
---
Office & Noticeboard Magnets / DIY Fridge Magnets
A range of exciting & stunning notice board magnets, ideal for any office or simply super cool designer magnets for your fridge! Everything from stylish planning magnets to super strong skittle magnetsThese magnets are perfectly designed for various applications such as for use on planning charts, notice boards, white boards, fridges and ferrous sheet/tape instant notice boards. These colourful and stylish magnets are attractive in every sense of the word; they're the perfect partner for any noticeboard and won't ever let you down. Here, you'll find magnets for regular whiteboards, glass wipe boards or maybe even magnetic noticeboards themselves. Not sure what type of board you have? Steel whiteboards - Most standard noticeboards are made from thin, white-painted steel with a dry-wipe surface and aluminium frame. Almost any magnet can be used on these boards. Glass magnetic boards offer a more stylish touch. Often frameless, with a coloured background they are made from a pane of glass on top of a thin layer of steel. Because the magnets have to attract through the layer of glass, they need to be stronger.
---
Neodymium Magnets for Notice Board, Office and Fridge / Coloured Magnets
Magnosphere Neodymium Magnets in a plastic casing are going to be your strongest partner at work. They are available in different sizes and colours: the bigger, the stronger the magnetic force. Neodymium magnets are different from ferrite magnets, they are ten times stronger than ferrite magnets: perfect for many pages and thick papers. You can use them everywhere and everytime a normal ferrite magnet is no longer sufficient.
---
You need Magnets with your Logo or Advertising?
We are your partner for Custom Magnets!
---
Who supplies high quality Stainless Steel Neodymium Magnets?
Magnosphere produces magnets at great prices, produced and delivered on time for all areas of industry, automotive, aerospace, electronics as well as in the design sector, trade fair construction, offices and for the home.
We are an ISO certified shop and carry the Trusted Shops seal. We have successfully completed more than 200,000 orders and offer our ever-growing customer base 24/7 customer service.
All items are available for immediate delivery in large numbers with daily dispatch. Our selection is your win! Thousands of satisfied customers! Buy from a company with the highest quality standards and customer service with flexible and diverse payment options and conditions.
We can also custom manufacture these to fit your exact specifications using our in-house global manufacturing facilities and team of experienced engineers. Need high quantities of magnets at the lowest and fairest price possible? Just let us know what you are looking for and contact our Customer Care Team by sending us a request for quote! We'll work with you to determine the most economical way of providing you with what you need.
Trust in our experience and convince yourself of our service and our products and we look forward to welcoming you to our magnet shop at Magnosphere. You are welcome to contact us by eMail: info(at)magnosphere.co.uk. Available 24/7 x 365 and we are also there for you on public holidays! Or just give us a call.
---
ROHS-Directive

Magnosphere conforms to the RoHs directive and the Reach and PFOS regulations. Directive 2002/96 / EC of the European Parliament and of the Council, of January 27, 2003, on waste electrical and electronic equipment (WEEE).
---

We are very proud to offer excellent customer service. We know that without our clients, we would not be here. If you have any questions about your order or something else, please call or email us!: info(at)magnosphere.co.uk
24 / 7 x 365 Including holiday periods! Our customer service team is available to help you!