Magnetic Tape with 3M Adhesive
Self adhesive magnetic strips per metre with 3M adhesive

This Self adhesive magnetic strips per metre with 3M adhesive, Self Mating is designed to provide the strongest grip possible on magnetic metal based surfaces. The magnetic tape is self-adhesive and pliable, ideal for a diverse range of applications. This easy to cut magnetic tape effortlessly sticks onto variety of surfaces, including many plastics. This super strong magnetic tape is perfect for a wide range of projects requiring stronger magnetic pull. If your project requires tape-to-tape attraction, this magnetic tape allows for perfect alignment from the same roll.
Magnets High Energy with 3M adhesive
This flexible magnet with 3M adhesive lets you conveniently attach non-magnetic objects to metal surfaces and can be easily cut to desired length with a pair of scissors. Flexible Magnet Tape with 3M adhesive is a general pupose, flexible magnet tape that allows reclosbale magnetic attachment to metallic surfaces and is coated with a high performance, low surface energy acrylic adhesive, which provides a high bond strength to most surfaces.
Simply cut it with scissors, peel off the backing and attach. Apply the tape to items of your choice and display on any magnetic surface. Make anything magnetic!
For best results, always clean surface with alcohol solution or alcohol pad to ensure surface are clean and free of grease, oil or any liquid before sticking on 3M adhesive side.
We use a super high-grade Neodymium Powder in our super strong magnetic tape, giving you the maximum bang for your buck. Neodymium Powder is the strongest magnetic material in the world, and we've crammed as much as we practically can into a roll of magnetic tape - 1600Gs (Magnetic Flux Strength),making it one of the strongest tapes available.
It has genuine 3M® Adhesive backing for extra strength and durability. It is 9 feet in length, with 10mm x 1mm x 1m or you can order this tape 1mm or 1,5mm in thickness. Magnetic Tapes contain two layers of magnets of the opposite poles so that it will not attract to other magnets.
All flexible rubber magnetic tapes can be easily cut into different lengths with scissors.The best effect is when the rubber magnetic tape is in contact with ferromagnetic surface (such as mild steel sheet) or directly with itself, even if the distance is very small, the magnetic force will be reduced. Magnet to magnet can be up to twice as magnetic as magnet to steel.
---
Neodymium magnets with 3M adhesive tape are the perfect solution for quick and durable use with a wide variety of ideas. Their small size and high force makes them ideal for places where we do not have magnetic surfaces and there is no possibility of screwing a magnet. Neodymium magnets with 3M tape are used, among others, in printing, decorating and modeling. They are also often used by schools, offices and art studios. Magnets with 3M tape are perfect for closing envelopes, folders, boxes. Our offer includes magnets with two poles, thanks to which the customer can connect two magnets with each other.
Flexible rubber magnetic tape is mainly used as a magnetic connector. With adhesive backing, non-magnetic objects can be fixed on the surface of the permitted magnet. For example, stick a flexible magnetic tape on the surface of the refrigerator, then you can easily stick a piece of paper on the refrigerator, and you can easily remove it when you don't use it, without any trace. Compared with traditional tape, rubber magnetic tape is more environmentally friendly.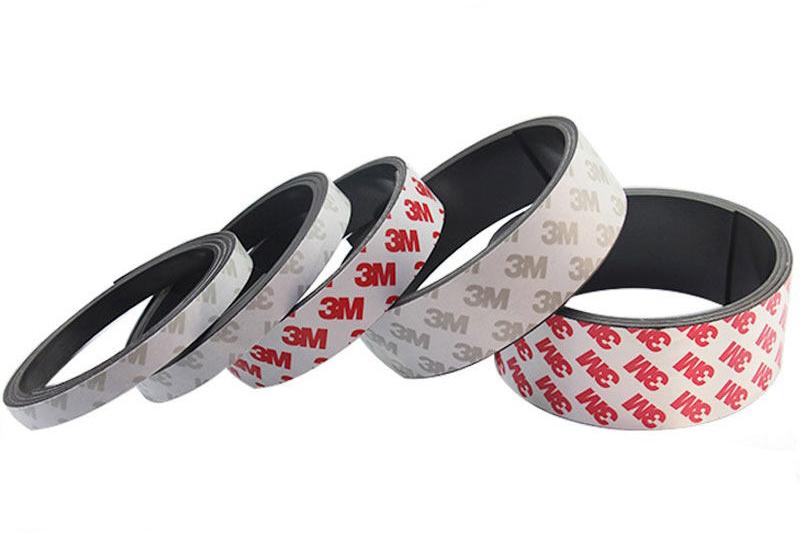 PURCHASE NOW AT MAGNOSPHERE - Strong Magnetic Tape with 3M Adhesive Backing
Thicker - 1mm or 1,5mm thickness
Length - 9 feet
Width - 10mm
Genuine 3M Adhesive Backing
Non-Residue
Easy Installation
Rare Earth Neodymium Powder
1600Gs (Magnetic Flux Strength)
No prep work -- attaches quickly to wood, fabric, metal, plastic, cardboard
Stronger magnetic hold and stickier backing than other magnet tapes
Replaces double sided tape, tacks, screws and hot glue guns
Cut to any length and shape with a pair of ordinary scissors
Perfect for hanging signage, posters, calendars, art, photos, and other light items
---
Main Features:
Versatile - With our extra strong self-adhesive magnetic tape, you can attach various items such as photos, posters, pens, tools and knives to magnetic boards and metal surfaces such as whiteboards, steel strips or fridges.
Extremely strong adhesive – The special foam adhesive ensures a long-lasting and firm hold on any surface – whether wood, plastic, metal or ceramic.
Individually cut to size - The tape can be cut to your desired size with normal scissors and can then be laid.
UNIQUE POWER – Our extra strong Magnetic Tape has an adhesive force of up to 100 g / cm2 by which you can also stick objects such as picture frames, tools and knives to straight surfaces.
Can be used anywhere – ideal for home, school, workshop and office – not designed for attaching Tonies, magnets and magnetic tapes – please use our metal band.
MAGNOSPHERE SUPPORTS YOU – After your purchase, the Magnosphere team will provide you with extensive advice and support. Your customer satisfaction comes first.
---
We ship our Magnets worldwid via Sea or Air Shipment
---
Buy Magnetic Tape with 3M Adhesive at Magnosphere and get a better deal!
Magnosphere produces magnets at great prices, produced and delivered on time for all areas of industry, automotive, aerospace, electronics as well as in the design sector, trade fair construction, offices and for the home.
We are an ISO certified shop and carry the Trusted Shops seal. We have successfully completed more than 300,000 orders and offer our ever-growing customer base 24/7 customer service.
All items are available for immediate delivery in large numbers with daily dispatch. Our selection is your win! Thousands of satisfied customers! Buy from a company with the highest quality standards and customer service with flexible and diverse payment options and conditions.
We can also custom manufacture these to fit your exact specifications using our in-house global manufacturing facilities and team of experienced engineers. Need high quantities of magnets at the lowest and fairest price possible? Just let us know what you are looking for and contact our Customer Care Team by sending us a request for quote! We'll work with you to determine the most economical way of providing you with what you need.
Trust in our experience and convince yourself of our service and our products and we look forward to welcoming you to our magnet shop at Magnosphere. You are welcome to contact us by eMail: info(at)magnosphere.co.uk. Available 24/7 x 365 and we are also there for you on public holidays! Or just give us a call.
---
ROHS-Directive

Magnosphere conforms to the RoHs directive and the Reach and PFOS regulations. Directive 2002/96 / EC of the European Parliament and of the Council, of January 27, 2003, on waste electrical and electronic equipment (WEEE).
---

We are very proud to offer excellent customer service. We know that without our clients, we would not be here. If you have any questions about your order or something else, please call or email us!: info(at)magnosphere.co.uk
24 / 7 x 365 Including holiday periods! Our customer service team is available to help you!