Magnetic receptive wall paint
Magnet paint comes ready to use. Do not thin and never combine this product with another paint. Mix paint thoroughly with a stirring stick just prior to use. Apply a generous coat with a foam brush or foam roller. A foam brush yields the smoothest surface. If paint is to be applied on just a portion of a wall, apply masking tape border to the area, prior to painting, for a clean line. Spraying is not recommended. For best results, apply at temperature of 20°C. Using our magnetic paint is easy and the innovative solution to transform the walls of your home or office into a fun, creative magnetic receptive surface. It rolls on to any flat surface with ease, just like paint you would buy at your local hardware store. How this works: When applied, this product gives the surface metallic properties that a magnet will stick to - just like a refrigerator door is not a magnet itself, but magnets will stick to it because it is metal. This works the same way, makes any wall surface into a magnet-attracting surface. NOTE: Surface must be a flat surface, not textured. Best magnets for use with this product are rubber sheet type magnets, the plastic alphabet and number sets for children, etc.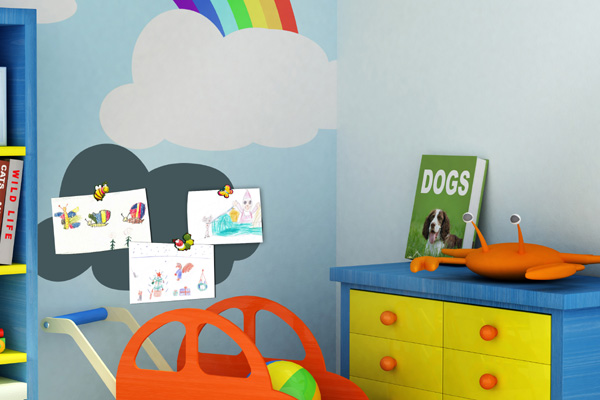 ---
Buy magnetic paint at Magnosphere and get a better deal!
We routinely manufacture magnets to our customers' specifications. We have assisted many Fortune 500 companies produce magnets for their specific application. We have the ability to produce magnets with varying magnetic properties, pole orientation, size, shape, temperature range, protective coatings and mechanical properties. We specialize in rare-earth magnetic materials and can produce magnets in Alnico, Ceramic Ferrite, NdFeB and SmCo materials. We can produce both sintered and bonded magnetic materials. If you have a specific requirement, contact us to discuss your application. Need high quantities of magnets at the lowest and fairest price possible? Contact our Customer Care Team !