Round Circle Disc Magnet Ø 22 mm, height 2 mm

Ferrite Y30 self adhesive foam holds 300g
Also known as ceramic magnets, ferrite magnets offer excellent value for money when pull strength is not the most important factor. These magnets are perfect for making fridge magnets out of your own photos or decorative items as they are only magnetised on one side with a layer of self-adhesive foam on the other. Simply attach the item you want to turn into a fridge magnet on to the self-adhesive side and you have an instant fridge magnet.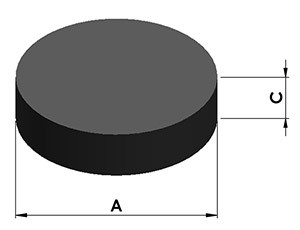 Applications of ferrite magnets
The ferrite magnets lend themselves to a variety of applications: from simple, such as magnetic locks for furniture or leather, magnetic lifters or magnetic separators, to the most sophisticated electric micromotors, which represent, along with speakers and some special magnetic applications, the areas of interest.

Manufactured after 2013/01/01, The object of the declaration described above is in conformity with DIRECTIVE 2011/65/EU OF THE EUROPEAN PARLIAMENT AND OF THE COUNCIL an the restriction of the use of certain hazardous substances in electrical and electronic equipment.
22mm diameter x 2mm thick
Magnetic on one side only with a striped, north/south magnetic field to give a secure grip on one side with self-adhesive foam on the other
Each magnet can support a steel weight of up to 300g vertically from the magnetic face when in flush contact with a mild steel surface
Material: Fe2O3 ( Ferrit )
Technical Specifications:
| | |
| --- | --- |
| Product Code | 1968 |
| Magnetic-Model-Shape | Disc / Rod |
| Pack Size | 20 Discs |
| Material | Fe2O3 ( Ferrit ) |
| Plating | uncoated |
| Magnetization quality | Y30 |
| Max Temp (degrees C) | 50° C |
| Magnetization | axial |
| Weight | 3,5 g |
| Volume | 760 mm³ |
| Overall Dimension | Ø 22 mm x 2 mm |
| Height: | H 2 mm |
| Diameter | D 22 mm |
| Remanence Br (kG) | min. 3,9 |
| Remanence Br (T) | min. 0,39 |
| Coercivity bHc (kOe) | min. 2,3 |
| Coercivity bHc (kA/m) | min. 184 |
| Coercivity iHc (kOe) | min. 2,3 |
| Coercivity iHc (kA/m) | min. 188 |
| Energy product (BxH) max MGOe | min. 3,4 |
| Energy product (BxH) max kJ/m³ | min. 27,6 |
| Flux density (Gauss) | * |
| Adhesive force (Kg) | 0,3 |
| Sliding resistance (Kg) | * |