Ring Magnet Ø 40 x 20 x 10mm Y35 Ferrite - holds 2kg
Toroids are used to confine and guide magnetic fields.These doughnut-shaped forms are wrapped in a coil to create a substantial increase in magnetic field strength. The design allows a coil to be wound through the hole and around the outside.
Toroid Applications:
Toroids are typically used in EMI filters, medical devices, musical instruments, amplifiers, power inductors and a wide array of transformers, including broadband, pulse and high frequency transformers.
Ferrite Toroid Benefits:
The shape of the toroid achieves the highest inductance per unit of volume, and helps to distribute the coil evenly around the circumference of the magnetic core. The continuous magnetic path yields the highest effective permeability and owest flux leakage of any shape. Toroids are available in various diameters, thicknesses, permeability and types depending upon the frequency range of interest. They provide exceptionally high inductance for the physical space occupied, without interacting with adjacent components.
Material Information:
Produced by powder metallurgical method with chemical compostition of Ba/SrO.6 Fe2 O3
Relativly brittle & hard
Good resistance to demangnetization
Excellent corrosion resistance
Raw material is readily available and low in cost
Good temperature stability
high coercive force and high electric resistance
Most widely used permanent magnets.
Hard Ferrite Magnet Ring-shaped, ferrite ring magnet (toroid) in anisotropic quality,
Dimensions: Outer Ø 40 mm, internal Ø 20 mm, height 10 mm
Adhesive force: 2.3 kg / 22.6 N
Weight: 45 g
Material: Ferrite
Quality: Anisotrop
| | |
| --- | --- |
| Product Code: | 1151 |
| Pack Size: | 1 |
| Form: | Ring |
| Dimension: | Outer-Ø 40 mm, Inner-Ø 20 mm |
| Thickness: | 10 mm |
| Grade: | Y35 |
| Coating: | uncoated |
| Material: | Fe2O3 (Ferrit) |
| Magnetized | axial |
| Vertical Pull (Kg): | 2,3 |
| Slide Resistance (Kg): | * |
| Max Temp (Grad C): | 250 |
| Befestigung: | Magnetic |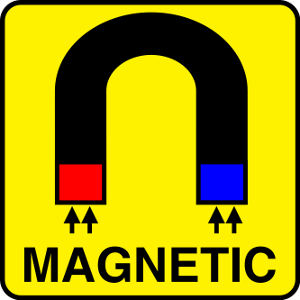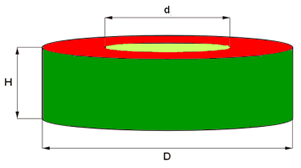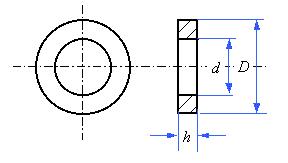 Extreme Power Warning!

These magnets are dangerous! If your fingers are trapped between two of these magnets, they will be crushed! Please note that they should only be handled and used after a thorough risk assessment has been undertaken.