Magnetic Sheet Dry Erase Whiteboard Magnet 0,6 mm

Try our Magnetic Dry Erase Whiteboard Sheet range of flexible Magnetic Sheets with a dry wipe magnetic surface comes in a variety of thicknesses, widths, lengths (by the roll or per meter). The smooth, white surface can be written on with whiteboard pens and easily wiped off please rub off the film before you write. Magnetised backing for easy installation on a fridge, metal door or any other magnet-friendly surface. Easy to remove and reposition leaves no marks or residue. Easily cut with a good pair of scissors or a craft knife.
Dry-Wipe White Gloss Strong Magnet Sheets / Whiteboard Sheet Magnetic 0,6mm
Flexible dry-wipe magnets are the perfect solution for creating magnetic labels or instant noticeboards. Our dry-wipe labels and whiteboard sheets have a dry-wipe gloss surface on the front face so you can write on them with a dry-wipe marker pen then easily erase what you have written – perfect for home or business! Flexible vinyl sheet is magnetic rubber which has a bright gloss coloured vinyl top layer plus a dry wipe top layer. The clear top layer lamination ensures that you can write on the sheets with dry wipe pens - they wipe off easily afterwards. The Natural version is plain (no vinyl, no dry wipe finish) - you can add your own artwork onto this. We can also print and cut out your own artwork onto the magnetic vinyl and add extra features such as dry wipe, magnetically receptive printed top layers, etc and we can cut to shape as well if required. Ideal for charts, planning boards, magnetic signs, games and puzzles. The label magnets and whiteboard sheets are easily cut to size using scissors, trimming knives or roller cutters; they are non-toxic and are compatible with solvent and UV ink.
Using flexible magnetic sheet is an excellent way to produce a high impact visual display. Flexible magnetic sheet can also be applied to point of sale applications to give a quick response in a fast changing environment. Either printed directly or used with a self adhesive backing so it can be applied to a traditional print. Magnosphere Magnet-Shop supplies a wide range of finishes and thickness on our flexible magnetic sheet and the high quality is matched by some of the highest holding forces available in the industry today.
Dry-wipe coloured vinyl magnetic sheets allow printers to print directly onto the magnetic sheets. This makes printing much quicker as printers don't have to laminate the plain magnetic rolls themselves.
Magnetic displays can be quickly easily removed and then reapplied as required, making them perfect for retail POS, posters and other graphics.
The magnetic sheets are available pre-laminated in either gloss or matt finish, with a selection of thicknesses available to suit your specific requirements, and the magnetic side is UV coated.
The magnetic material can easily be cut to size and will not scratch or mark the surface if the care instructions are carefully followed.
The magnet material is designed for outdoor use and will not rust and the magnetic holding strength does not reduce over time so your customers can use the signs again and again.
Our customers often use coloured vinyl sheets for retail displays. The vinyl is suitable for (eco) solvent, UV and screen printing.
---
These magnetic sheets with a matte finish are as easy to print as ordinary paper and can be used in any inkjet printer. The only difference is the back of this paper is magnetic. The magnetic sheets are very easy to cut with a paper cutter, straight edge, or even scissors. Ease of use makes them ideal for a variety of projects! Also available in a Glossy Finish.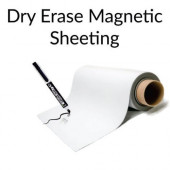 PURCHASE NOW AT MAGNOSPHERE - Dry Erase Magnet Sheet Rolls
---
Magnetic Sheets
Magnetic Sheets are very adaptable, versatile and the best alternative when you require a cost effective flexible magnet for your office, factory, warehouse or home. Our Flexible Magnetic Sheeting can be used for a variety of applications such as promotional magnets, invitations, business cards, identifiers, car signs, craft, arts, general hobbies and many other commercial purposes. Magnetic Sheets from AMF Magnetics, have a PVC coating suitable for various kinds of printing as well as writing on with whiteboard markers.
---
Buy Magnetic Sheets and Sheeting by the roll or per metre!
Our Magnetic Sheeting are a specialised range of Flexible Magnets made from Strontium Ferrite powder with a thermoplastic carrier. They are magnetised on one side (back) only and can be stuck onto any ferrous metallic surface. Magnosphere provides a huge range of Sheet Magnets in a variety of colours, sizes and lengths (by the roll or per metre). Choose from Our White, Coloured or Self-Adhesive Magnetic Sheets
---
Sheet Magnets
Sheet magnets are one of the most inexpensive magnets that are available in the market. These magnets are smooth, nonporous and are all weather resistant. The strength of the magnets can be increased by either increasing the width of the sheet or through magnetizing method.
The magnetic strips can also be supplied with a pressure sensitive adhesive backing or foam tape backing on one side for more bonding strength. For increasing the holding power, in some case, these magnets are also provided with steel backing to increase the holding power. The magnetization and the pole spacing of different sheet magnets are different because different applications require different magnetization. There are two methods of manufacturing magnetic sheet:
Extrusion process

Calendaring process
---
Applications
The sheet magnets have the following applications:

Craft Items

Markers

Signs

Refrigerator Magnets

Business Card Magnet

Advertising Boards

Advertisement
---
Extra Strong Magnet Sheets
Anisotropic flexible rubber magnets are made by mixing ferrite magnet powder with synthetic rubber or plastic. When barium or strontium ferrite powder are consolidated with polymer matrix, anisotropic flexible rubber magnets are produced. The magnets so produced, have an excellent flexibility in permanent magnetic material field. These magnets because of their flexible feature can be easily molded and cut into stripes without affecting their magnetic properties. They also have an excellent machining characteristics.
Flexible magnetic sheeting is available with a variety of high quality laminates that are typically applied to the non-magnetic (weak) side. The most frequently used laminates are vinyls or adhesives depending on the required function of the magnet. Flexible Magnetic Sheeting is used for vehicle signs, creative projects, promotional items and many more consumer and commercial applications.We carry a a large stock inventory of flexible magnetic sheeting in different thicknesses, in rolls of different lengths, and with either white or plain brown finishes.
Flexible magnets are ideal for indoor & outdoor signs, warehouse labeling, vehicle signs, displays, visual aids, toys, games, arts & crafts, advertising premiums, POP displays, architectural planning layouts, bulletin boards, trade show applications and more. If needed, we can custom slit rolls or custom cut the sheets to your desired length.
---
Magnetic sheets are of following types
Rolling Magnetic Sheets: The rolling magnetic sheets are powerful magnets which find their usage for large-scale advertising ornaments, toys and diversified craft works.
Cutting Magnetic Sheets: The cutting magnetic sheets have their utility for instruments, meters, sensors, advertising ornaments, toys and different kinds of craft-work.
Calendaring Magnetic Sheets: The calendaring magnetic sheet too like rolling magnetic sheet is used for advertising ornaments, toys and various craft works.
Plain Magnetic Sheets:These magnets are without any laminations.
Colored Magnetic Sheets: They are laminated with colored vinyl (PVC).
Self-Adhesive Magnetic Sheet: They are laminated with self-adhesive tape.
1.6 for more holding strength.
Magnetic Labels: Everything you need for magnetic labels, including pre-cut and write-on / wipe-off options.
Matched Pole Strip: Apply magnets face-to-face or even side-to-side without worrying about aligning the poles!
Magnet Receptive: We offer magnet receptive foil tape, lightweight metal sheet with paper surface and even printable ferrous sheet!
Magnetic Strip: Our magnet strip is available in rolls or pieces, plain, with adhesive, or with color laminates.
High Energy Magnet Strip: A stronger version of our standard magnetic strip, made in energy levels of 1.0 to 1.6 for more holding strength.
---
Magnetic Sheet Features
Application should be made onto a flat, dry surface, after first removing any contaminants such as dirt or oils. Avoid extreme heat or cold, which could impact PSA flow. Apply with firm, equal pressure – 12 hours of pressure is recommended to obtain optimal flow and adhesion.
The magnetic properties of the flexible rubber magnets are higher than that of sintered isotropic ferrite magnets.

It is easy to give desired shapes to the magnetic rubber as the punching, cutting, perforating and bending are easy and simple.
Available in different length, breadth and thickness
The surface can be laminated with double sided self-adhesive and color PVC
They are both isotropic and anisotropic
posses good magnetic strength
They are non porous and weather resistant
---
The different applications of flexible rubber magnets are:
Magnetic Sheets/Rolls is a permanently magnetized, synthetic, rubber-based material which has countless applications in the signage and graphics industries. Magnetic sheeting is the perfect solution to semi permanent advertising applications. Magnetic sheets are best suited for: Advertising Displays & Signs, Motors, Sensors, Learning material, Decoration magnets for refrigerator, Magnets for toys, Vehicle signage, Labeling projects shelf and bin marking, Arts and Craft and toys, POP displays, Markers, Business Card Magnet, Advertising Boards, Advertisement, Window and Door Seals, Control Charts and Menu Boards, Package closures, Large Format & Interchangeable Graphics, Magnet Wall Systems.
Easy on! Magnetic sticks easily to metal surfaces.
Easy off! Just pull- no damage to surface. Use again and again and again.
Easy does it! Screen print or paint. Cut your design with a sharp knife or scissors.
---
Why buy Dry Erase Magnetic Sheets at Magnosphere?
We can custom manufacture these to fit your exact specifications using our in-house global manufacturing facilities and team of experienced engineers. Need high quantities of magnets at the lowest and fairest price possible? Just let us know what you are looking for and contact our Customer Care Team by sending us a request for quote! We'll work with you to determine the most economical way of providing you with what you need.
---
Buy Dry Erase Magnetic Sheet / Flexible Magnetic Materials at Magnosphere and get a better deal!
Magnosphere produces magnets at great prices, produced and delivered on time for all areas of industry, automotive, aerospace, electronics as well as in the design sector, trade fair construction, offices and for the home.
We are an ISO certified shop and carry the Trusted Shops seal. We have successfully completed more than 200,000 orders and offer our ever-growing customer base 24/7 customer service.
All items are available for immediate delivery in large numbers with daily dispatch. Our selection is your win! Thousands of satisfied customers! Buy from a company with the highest quality standards and customer service with flexible and diverse payment options and conditions.
We can also custom manufacture these to fit your exact specifications using our in-house global manufacturing facilities and team of experienced engineers. Need high quantities of magnets at the lowest and fairest price possible? Just let us know what you are looking for and contact our Customer Care Team by sending us a request for quote! We'll work with you to determine the most economical way of providing you with what you need.
Trust in our experience and convince yourself of our service and our products and we look forward to welcoming you to our magnet shop at Magnosphere. You are welcome to contact us by eMail: info(at)magnosphere.co.uk. Available 24/7 x 365 and we are also there for you on public holidays! Or just give us a call.
---
ROHS-Directive

Magnosphere conforms to the RoHs directive and the Reach and PFOS regulations. Directive 2002/96 / EC of the European Parliament and of the Council, of January 27, 2003, on waste electrical and electronic equipment (WEEE).
---

We are very proud to offer excellent customer service. We know that without our clients, we would not be here. If you have any questions about your order or something else, please call or email us!: info(at)magnosphere.co.uk
24 / 7 x 365 Including holiday periods! Our customer service team is available to help you!