Matt Inkjet Magnetic Photo Paper A4 (8.27 x 11.69")
Got a picture, photo or document you want to put on your fridge or magnetic board? Here's the solution. Simply print it onto magnetic sheet that you put through your inkjet printer. The Printable Magnetic Sheet comes in matte white and gloss white A4 sized sheets and should work with the majority of inkjet and laser printers (use 1 sheet at a time). Our Inkjet Magnetic paper is it thicker than magnetic paper sold in large office warehouse stores and other large retail outlets. Our inkjet magnetic is still thin enough to feed through all popular inkjet printers without any problem. Don't settle for low quality super thin magnetic media with inferior coating. Once you print on our magnetic paper you will notice the difference.

Print directly onto our magnetic sheets using your Inkjet printer, Canon, Hewlett Packard, Epson, Apple, Compaq, Lexmark and others. Now you can make professional looking refrigerator magnets right on your desk top.
The magnetic sheet can also be written on directly (using non-permanent marker pens). So hand-drawn artwork, notes, drawings, pictures can be produced onto a magnetic sheet. Or make your own magnetic labels. There are so many uses. Print or make whatever your imagination wants!
Recommended for:
Fridge magnets, Signage, Posters, Advertising brochures, Craft making, Greeting cards, Puzzle making, Notice board making and Logo prints - High resolution printing - Instant dry printing - Water resistant.
NOTE: Not for use with laser printers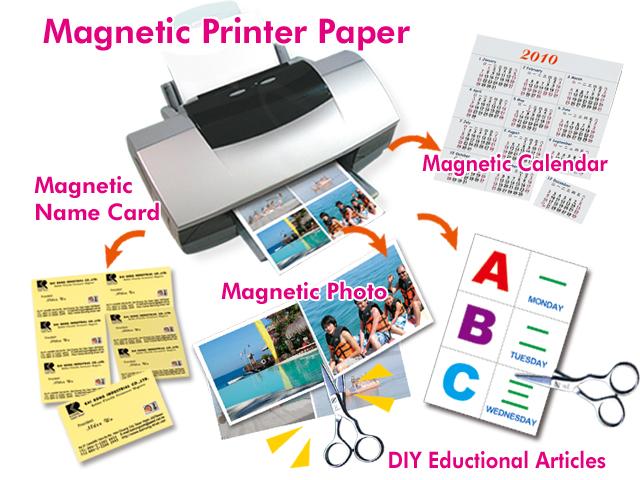 Matte Magnetic Photo Paper for Inkjet Printers, 650gm2, 8.5x11"
White material, which is a glossy or matte finish is applied to the magnetic substrate, visually and to the touch almost indistinguishable from the paper. Variation in that one side of this material is the same as in all the usual paper and the other - the dark comprising magnetic particles due to the reverse side easily "stick" to any metal surface.
A need for the product is just as easy to remove and put in a new location. The sheets are easily cut with scissors.
Destination - Photos, Postcards, Invitations, Calendars, Remainders, Home-made magnets, Child's games, Advertising materials
Use of this paper is limited to your imagination, works with all inkjet printers.
Technical Specifications:
| | |
| --- | --- |
| Item Number: | 1980 |
| Packing quantity: | 5 sheets |
| Shape: | A4 |
| Dimension: | 210 mm x 297 mm |
| Strength: | 0,3 mm |
| Coating: | PVC |
| Color: | white matt |
| Material: | Magnetic Sheet |