Magnetic dry erase white board for kitchen fridge
Combo 0,6mm 40cm x 30cm includes 2 markers and eraser
- Flexible magnet with matte white vinyl printable surface. Great for P.O.P. displays, vehicle signs, and much more -
Magnetic sheet can be used as visual advertising carrier - it can be easily mounted/dismounted onto the surface and it does not damage the ferromagnetic surface as standardly used adhesive foils. The graphics can be realized by screen printing, offset or other printing technology. Magnetic holding force depends on type and thickness of ferromagnetic surface onto the magnetic sheet will be applied. Magnetic sheet can be easily cut by scissors, knife or die-cut into desired shapes.
We offer magnetic sheet in thicknesses of 0,3, 0.4, 0.5, 0.7, 0.9, 1,5 mm and 2.0 mm in rolls of 30 mtr or 10 mtr length, roll width is 620 mm or 1000 mm in standard (plain brown), white matte and adhesive execution.
We can also supply magnetic sheet cut into arks, standard or custom-made shapes upon request. We can supply it in all thicknesses (0,3, 0.4, 0.5, 0.7, 0.9, 1,5 mm and 2.0 mm) and executions (plain brown, white matte, adhesive, colour).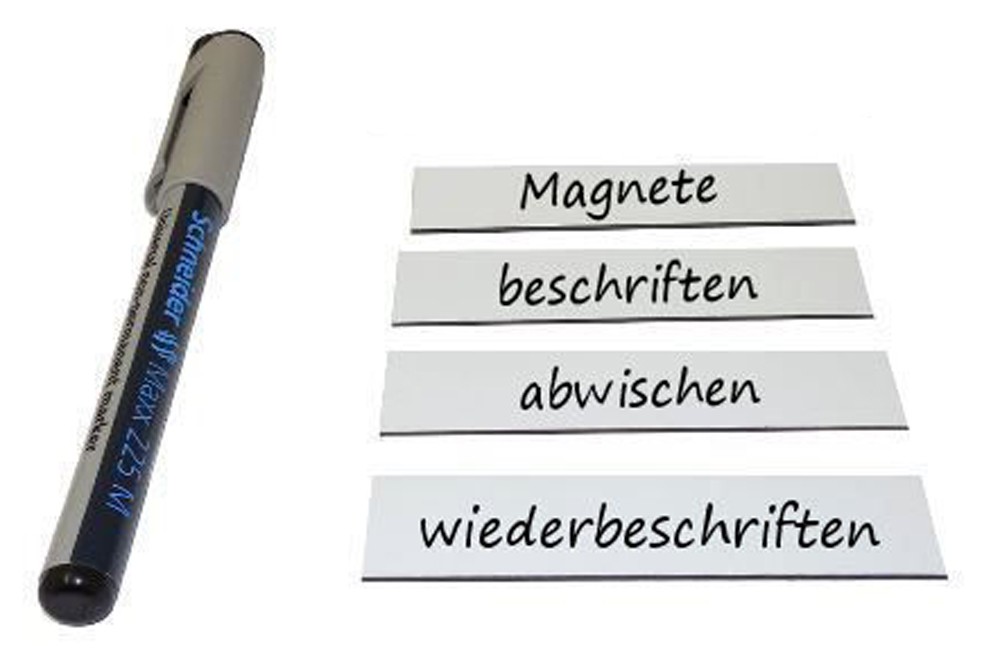 Our dry erase material technology cleanly wipes away writing from included markers and can be easily erased. No more water, Windex, or Lysol needed!
HIGH QUALITY MARKERS - Includes 1 black and 1 blue fine tip marker for precise writing. Both markers come with little erasers on the cap for detailed erasing and magnets for sticking onto the board or fridge so you'll never lose them.
FULL SIZE ERASER - Includes a full size eraser for quick and easy erasing of large areas. The eraser also comes with a magnet on the back that can be stuck to the white board or to the fridge.
STRONG MAGNET - A strong magnet backing keeps your white board flat and secure against any magnetic surface unlike other bulky boards. If a magnet can stick on your fridge, this white board will too!
PERFECT MESSAGE AND NOTE CENTER - This white board makes organization easy. Use it for shopping lists, appointments, reminders, and notes to the family or roommates.
Technical Specifications:
| | |
| --- | --- |
| Item Number: | 1705 |
| Packing quantity: | Magnetic dry erase white board for kitchen fridge - includes 2 Markers, 1 Eraser |
| Shape: | Cut to size |
| Dimension: | 40 cm x 30 cm |
| Strength: | 0,6 mm |
| Coating: | PET, dry wipe |
| Color: | white |
| Material: | Magnetic Sheet |
| Adhesive force (kg): | 39g/cm2 |
| Max Temp (° C): | 55° C |
| Securing | magnetic |