Magnetic Gloves, available in medium, large and extra large
- Ideal for holding nails, screws, nuts, bolts and drill bits -
Our Magnetic Gloves allows you to store metal parts and fasteners on the back of your hand while working. The index finger is embedded with a small magnet for use as a pick-up tool. No more digging in your pockets for screws or keeping nails in your mouth. Designed to be Gloves First, our Magnetic Glove delivers superior protection and performance in a comfortable and secure fit. The palm material is enabled with Touch-Screen Technology for operating smart phones and tablets.
Our proprietary Maximum Feel fingertip design allows for pick-up of small items without removing glove.
Use our Magnetic Glove to conveniently store fasteners on your hand for easy access while you work. Ideal for holding nails, screws, nuts, bolts and drill bits. Work on projects without the frustration of losing your tools or patience.
Product features
Powerful magnet in back of glove for storing metal parts and fasteners
Magnetic fingertip for pick-up of small parts and fasteners in tight spaces
Touch-screen technology allows use of smart phone or tablet without removing glove
Neoprene around wrist and knuckles for a comfortable and secure fit
4-way stretch spandex back for snug fit
Adjustable wrist strap and natural pull tab for pulling gloves on and off
Reinforced palm with non-slip grip
Hand wash and hang dry
Three sizes: S, M and L (other customers recommend here, to purchase the gloves one size larger):
Medium: Length 21.7, width 10.8
Large: Length Width 22.5 11.2
Extra Large: Length 23.2, width 11.6
Warning: keep away from magnetic sensitive devices

Manufactured after 2013/01/01, The object of the declaration described above is in conformity with DIRECTIVE 2011/65/EU OF THE EUROPEAN PARLIAMENT AND OF THE COUNCIL an the restriction of the use of certain hazardous substances in electrical and electronic equipment.
Powerful magnet in back of glove for storing metal parts and fasteners.
Neoprene around wrist and knuckles for a comfortable and secure fit
Terry cloth sweat wipe on back of thumb
4-way stretch Spandex back for snug fit
Reinforced palm with nonslip grip
Technical Specifications:
Magnosphere - Artikel number

1613

Form / Model

Magnetic Gloves

Material

Powerful magnet in back of glove for storing metal parts and fasteners

Dimension

Medium: Length 21.7, width 10.8

Large: Length 22.5, width 11.2

Extra Large: Length 23.2, width 11.6.

Color
black

Application

Ideal for holding nails, screws, nuts, bolts and drill bits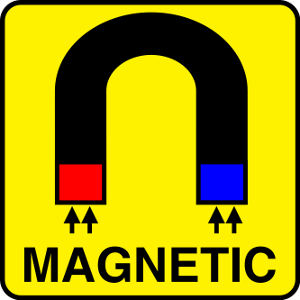 Magnetische Arbeitshandschuhe, medium, large oder extra large - Vorstellung