Magnetic Knife Holder | Magnetic Knife Rack V2A | Knife Strips
35 mm x 500 mm
- keeps your cutlery within reach while preparing your favorite meals. Store your entire cutlery collection -
dimension: 35x320mm / 35x500mm
weight: 250g / 375g

brushed stainless steel V2A

1.5mm thick

6/9 powerful neodymium magnets

removable attachment included (screws, pins, magnets fasteners)

Product available in stock
2 good reasons
you can not see this ugly black plastic bar with two sticks (weak) magnetic force

you want to clear space unnecessarily taken by this big block of wood in your workspace
Precautions magnetic products based magnets
keep them away (more than 25cm) from all computer media such as hard disk, USB stick, MP3 player, any desktop or laptop
keep it away from magnetic cards such as credit cards, magnetic badges, etc ...
pacemakers, try to keep the magnetic fields of magnets away: more than 25cm, magnets and pacemakers do not mix.
keep the magnets away from children (especially as they find them very amusing, like us)
the human body does not contain ferromagnetic material, the proximity of the magnets is completely harmless to man (and woman and child ...).
Coded car keys contain no magnetic media: they don't suffer, according to the manufacturer's experience, no damage
occurs
.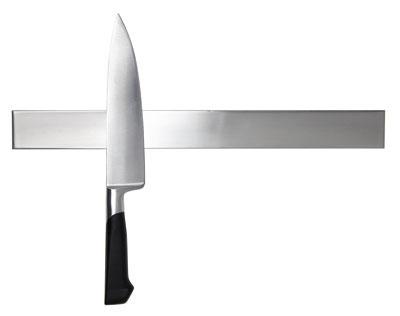 in detail
Don't want to pay 100 € for a door quality knives?
Tired of ugly black plastic bars that are everywhere?
Need a magnet?
Bar top quality brushed stainless steel (V2A).
Available in 2 widths: 32cm and 50cm
Enormous power of attraction with 6 (9 version 50cm) neodymium: you knives are very firmly pressed against the bar.
Easy attachment and intelligent: 2 magnets perforated wall mounted (screws and plugs supplied) allow secure panel securely locked.
Kit Contents: 1 magnetic knife bar 320mm or 500mm by 35mm high, 2 magnet holes for wall mounting, 2 screws, 2 plugs, instruction manual.
Sober and timeless.
advantages
quality - the highest quality brushed stainless steel, super-strong magnets and a flawless finish.
simplicity - not trivial, 100% useful ... it's easy and that's why we love him.
design - sleek design and timeless, great gift idea.
Using a pencil, draw two marks on the wall to the desired position (horizontal or vertical) for drilling. The distance depends on the model:
model 32cm - 25cm between the 2 dowls
model 50cm - 36cm between the 2 dowls
insert the pins (A) into the holes to insert the screws (B) into the milled magnets (C), screw firmly, put the knife bar: it's ready!
To disassemble, simply remove the blade unit and loosen the countersunk magnets.
Magnetic Knife Holder | Magnetic Knife Rack V2A | Knife Strips 35 mm x 500 mm
Technical Specification:
| | |
| --- | --- |
| Magnosphere - Article No. | 859 |
| Form / Model | Magnetic Knife Rack |
| Material | Stainless steel |
| Color | Silver |
| Length | 500 mm |
| Width | 35 mm |
| Attachment | Srews |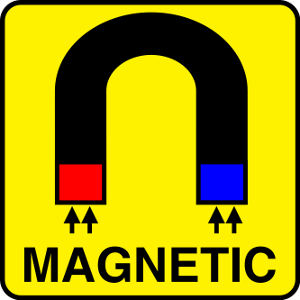 Messerleiste magnetisch, V2A - 35mm x 320mm - Vorstellung