Magnetic measuring tape 36" inches | 100 cm | yellow
- measures beams, doors and metal panels quickly and accurately -
This vinyl magnetic measuring tape provides a convenient solution for determining approximate distances hands free on an optical table or breadboard. With a magnetic back that extends over the full length and width of the ruler, this measuring tape lays flat on any magnetic surface and features both imperial and metric scales, with numeric marks every 1" and 1 cm and tick marks every 1/8" and 1 mm.
Only 0.03" (0.8 mm) thick, the ruler maintains a low-profile on the table. If a shorter length is desired, the ruler can be cut into segments. Please note that vinyl can stretch; consequently, this measuring tape should be used as an alignment aid and not as a precision measurement tool.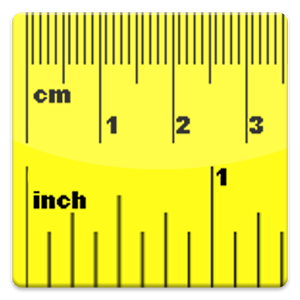 Product Details:
Magnetic Over Entire Backside of Ruler
Attaches to Optical Table or Breadboard for Hands-Free Measurement Guide
Flexible Material for Easy Rolling and Storing
Numeric Marks Every 1" and 1 cm, Tick Marks Every 1/8" and 1 mm
L x W x Thickness: 1 m x 1" (25.4 mm) x 0.03" (0.8 mm)
Application:
Can be used on metal surfaces for hands-free measuring
UV-resistant yellow vinyl surface
Quickly and accurately measures beams, doors and metal panels

Manufactured after 2013/01/01, The object of the declaration described above is in conformity with DIRECTIVE 2011/65/EU OF THE EUROPEAN PARLIAMENT AND OF THE COUNCIL an the restriction of the use of certain hazardous substances in electrical and electronic equipment.
Measures beams, doors and metal panels quickly and accurately
Markings include fractional quick read
UV-resistant ink prevents fading
Colour: Yellow

|

Dual scale measures one full yard (36")
Size Length x Width: 100 x 2.54 cm / 39 x 1 inches
Technical Specifications:
Magnosphere - Artikel number
1511
Form / Model
Magnetic measuring tape

|

Ruler
Material
Magnetic strip
Length
39" - 100 cm
Width
1" - 25,4 cm
Height
0,03" - 0,8 mm
Color
Yellow
Tolerance
+ / - 0,1 mm
Weight
ca. 68 g
Max. Temperatur
55°C