Magnetic Paint/Magnetic Receptive Wall Paint - 5000 ml Tin
attracts magnets! 5,0 litre paint, for an area of 10m² - 40m²
- MagnetPaint is a system that transforms an existing wall into a magnetic receptive surface -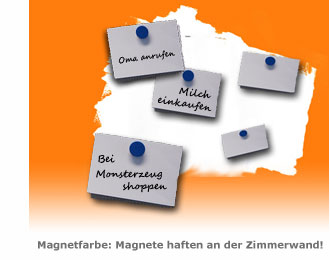 Magnet paint comes ready to use. Do not thin and never combine this product with another paint. Mix paint thoroughly with a stirring stick just prior to use. Apply a generous coat with a foam brush or foam roller. A foam brush yields the smoothest surface. If paint is to be applied on just a portion of a wall, apply masking tape border to the area, prior to painting, for a clean line. Spraying is not recommended. For best results, apply at temperature of 20°C.

Proper surface preparation is essential for a long-lasting finish. Paint will not adhere to dirt, grease or water solubles such as wallpaper paste or glue sizing. Remove all loose or peeling paint. Blend edges by sanding. Wash surface with water and detergent, rinse well and allow to dry. Chalking surfaces should be thoroughly cleaned with water and a scrub brush. Remove loose material from cracks and holes, and fill with a quality spackling compound. When dry, sand smooth and wipe free of dust with a damp cloth. Smooth surfaces work best, rough concrete or cinderblock surfaces are not recommended. For good adhesion to gloss or semi gloss surfaces scuff the surface with sand-paper and use a liquid deglosser.

One liter will cover approximately over 5 square meter with one coat. Multiple coats increase magnetic receptability. Two to three coats are recommended to hold flexible "refrigerator" magnets. Your new magnetic wall will attract; coins, keys and small tools, etc. wirth no chance to escape! But the best part is, that you can apply your desired wall paint over the magnetic paint. The waiting period is 4 hours and simply paint over with your desired color. All that matters is that you do not dilute with water or mix with other chemicals.
Safety:
Keep out of the reach of children.
Accidental ingestion damages the health.
Apply in a well ventilated area.
Close the bottle after use.

If swallowed:
Consult a doctor immediately and show the packaging or label.

In case of contact with eyes:
Do not rub, rinse with water.
Avoid prolonged contact with skin or inhalation of paint.
This product is in compliance with the EC directives.

Risks:
Under current legislation is the meaning of this product a threat to human health or the environment.

Handling and storage:
Keep in the original packaging and at a temperature of about 5 degrees Celsius.

Duration of drying:
4 hours. (50% relative humidity, 20 ° C)

Ecological:
From use in normal amounts, the product contains no hazardous components.

Instructions for paint removal:
Before cleaning the utensils with water, try to clean the paint. Get rid of dry and liquid waste in accordance with local and national standards.

Overview:
This information relates only to the above article and not necessarily in the case of use with any other product or any other process. You always have a responsibility to ensure that the above information is correct and complete with respect to the specific use of the product.
Magnetic Paint/Magnetic receptive wall paint - 5000 ml Tin attracts magnets!

Magic Wall Magnetic Paint is a great solution to cluttered refrigerators, ugly push pin holes, tape marks

Magic Wall Magnetic Paint is great for school displays, planning boards, art projects, play areas, offices, classrooms, dorms

Magnetic Magic is not magnetic itself but is magnetic receptive. It is loaded with iron oxides for maximum magnetic effect and is not at all harmful to humans in the room.
Magnetic Paint - It's what magnets stick to!

Fridge Frames, other flat magnetic vinyl products and rare earth magnets will stay on your wall. You can put up posters, notices, notes, letters, bills, lists etc using our Sticky Bits (adhesive backed magnetic rectangles) stuck to their backs or magnetic vinyl strips over their corners or tops. All this without damaging your walls.
| | |
| --- | --- |
| Product Code: | 1222 |
| Package Quantity: | 1 |
| Form: | Magnetic paint |
| Content: | 5 Liter |
| Base color: | grey |
| Ideal for: | walls |
| Finish: | matt |
| Coverage capacity: | high |
| Application: | indoor |
| Rooms: | living room, study, kitchen, corridor / hallway |
| Recommended number of coats: | 3 |
| Dry time: | 4 hours |
| Processing: | rolling, brushing |
| Primer recommended: | yes |
| Tip for priming: | pre treating depends on the substrate |
| Application: | transforms any wall to be magnetic receptive |
| Technical Features: | magnetic |