Magnetic Positioners
This tool embodies the flux control advantages of the magnetic holder and the flexibility of the magnetic adjustable magnetic link. It possesses high magnetic performance and, in addition to the multi-angle feature it is also capable of holding round sections by incorporating vee'd faces as well as plain.
Essentially a heavy duty tool, the magnetic positioner consists of two magnetic units connected by non-magnetic steel straps, controlled independently by a switch located at the end of each unit. Each unit has two magnetic faces energised simultaneously by the control switch. Locking at any angle is achieved by tightening a central nut. Also available in single.
Details:
The magnetic positioner is a heavy duty unit consisting of two magnetic blocks connected by two non-magnetic steel straps
The blocks contain high performance Alcomax 3 magnetic material
Magnetic on two faces ON/OFF switch located at each end
| | | | | |
| --- | --- | --- | --- | --- |
| Length (Inch) | Height (Inch) | Width (Inch) | Max. Pull on Flat Face (lbs) | Max. Pull on V'd Face (lbs) |
| 8-7/64 | 2-1/2 | 3 | 249 | 220 |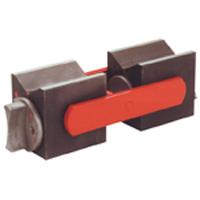 Item: Magno - 229, Magnetic Positioners
High power (220 lbs. maximum pull) on flat face, heavy duty device for holding flat or cylindrical components for drilling, assembly, fabrication and weld preparation. Measures: 8.11 in L x 2.5 in H x 2.99 in W. Weighs 7 lb. Max pull on flat face: 249 lb. Max pull of vee'd face: 220 lb.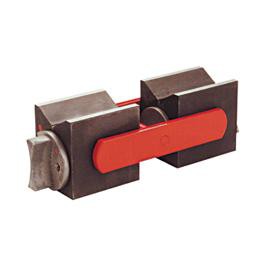 Magnetic Positioners 2 blocks "On - Off"
Angle: Any angle
Dimension: 206 mm x 76 mm x 63.5 mm
Tool Body Material: Metal
Clamping Force: 220 lb
Weight: 3.17 lb
| | |
| --- | --- |
| Item Number: | 1366 |
| Packing quantity: | 1 Pair Magnetic Positioners |
| Dimension: | 206 mm x 76 mm x 63.5 mm |
| Tool Body Material: | Metal |
| Color: | red |
| Clamping Force (lb) | 220 lb |
| Weight (kg): | 3.17 lb |
| Securing | magnetic tool holding |
Magnetischer Positionierer 2 Blocks "Ein - Aus", Haftkraft 80 kg - 100 kg - Vorstellung