Magnetic Purse Snaps Closures | Silver Clasps Button | Craft Magnets
10mm - 18mm | set of 10
- they will snap together when brought close together - Great for sewing, craft, clothing, bag, scrapbooking, and more -
Traditionally, craft magnets were made of Flexible or Ceramic magnetic materials. But with the dramatic decreases in the price of Neodymium, these powerful magnets are now a part of the crafter's tool-kit. Neodymium magnets are by far the strongest, followed by Ceramic, and then by Flexible or rubberized magnets. Flexible magnets are more convenient to use - being easy to cut and adhere - and the most economical.
If your project is intended to hold several sheets of paper to a refrigerator door, we recommend using Ceramic or Neo magnets, since these will function much better through several sheets of paper.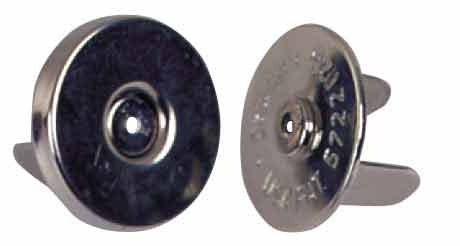 Description:
10 sets of magnetic bag clasps
Each set is composed of five snaps and five washers
Each snap has 2 prongs, which are pushed through the fabric of your bag or purse, then folded over to keep them securely in place
Once the two snaps are in place, they will snap together when brought close together
Great for sewing, craft, clothing, bag, scrapbooking, and more
Color: Silver
Diameter: 10 mm to 18mm
Suitable for
Handbags
Fabric craft project
Add on to home-made tote bags
Closure for small pouch or purse
School project
Scrap-booking
Replacement for damaged/broken clasp
Magnetic Clasps Usage Guide
Mark clasps positions on both sides of opening
Position the washer centre hole on marking
Using washer as a template, mark the 2 slit positions
Make 2 small slits on fabric for the fang of the clasp to go thru
Position the clasp fangs through the slits
Place a washer thru the metal fangs to sandwich the fabric between clasp and washer
Use a pair of pliers or finger to firmly bend the fangs to secure washer to fabric

Manufactured after 2013/01/01, The object of the declaration described above is in conformity with DIRECTIVE 2011/65/EU OF THE EUROPEAN PARLIAMENT AND OF THE COUNCIL an the restriction of the use of certain hazardous substances in electrical and electronic equipment.
Simple to attach - just insert prongs through fabric / material & fold-over; backing pieces included

Practical solution

|

Laundry safe

|

great for purses, jsewing, craft, clothing, bag, scrapbooking and more

Shape: Circular

|

Set of 10 complete buttons

Dimension: available 10 mm - 18mm

Durable all steel with bright silver nickel finish

|

high quality

|

reliable magnet
Technical Specifications:
| | |
| --- | --- |
| Magnosphere - Artikel number | 1521 |
| Form / Model | Purse Snaps |
| Material | NdFeB |
| Coating | NiCuNi ( Nickel ) |
| Diameter | 10 mm, 12 mm, 15 mm and 18 mm |
| Height | 3 mm |
| Color | silver |
| Weight | 2 g - 8 g per Set |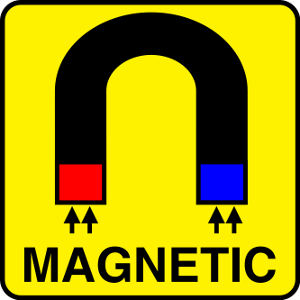 Magnetic Clasps, Purse Magnetic Clasp
Magnetverschluß | Magnetknopf | rund aus Metall 10 mm - 18 mm | 5 Stück - Vorstellung