Magnetic Spot Scrubber for wine decanter cleaner
available in black, green, orange and pink
- The Magnetic Scrubber Is a Genius Glass Cleaner - cleans hard to reach areas -
Don't you hate it when you have a decanter or a bottle that needs to be cleaned but you can't fit your hand in there to give it a good scrub that it needs? Yeah, me too.
Now you don't have to make due with half dirty bottles, vases and more thanks to the Magnetic Spot Scrubber that really gets into those hard-to-reach spaces that traditional brushes can't get to. The inventive magnetic scrubber will be your new kitchen best friend since all you do is drop the detachable magnetic scrubber into the dirty vessel that should be filled with soapy water then align the handle on the outside until the two lock together and scrub away! It's super simple and will make cleaning dishes you normally weren't able to so much easier. Since it's a sod rubber scrubber, it won't scratch glass or any of your fine dishes.
Details
Reach difficult to clean areas that no brush or sponge can access
Soft rubber scrubber won't scratch glass.
Drop small magnet into container filled with soap and water. Use other magnet to scrub
Hand rinse. Dishwasher not recommended
Compact and easy to store
Available in different colors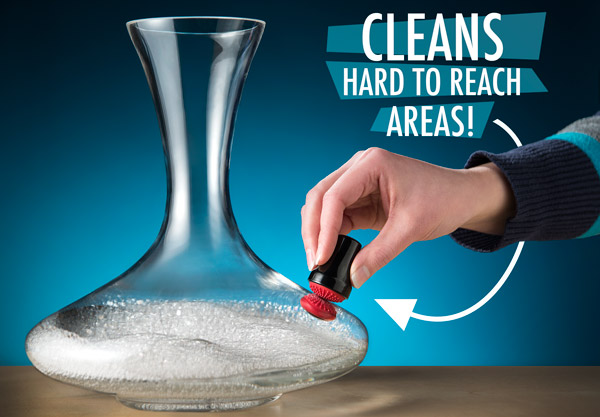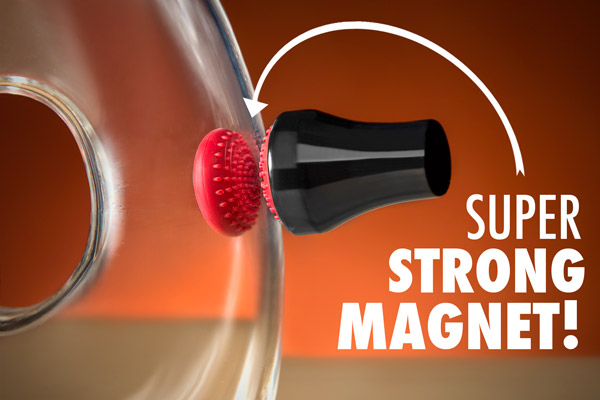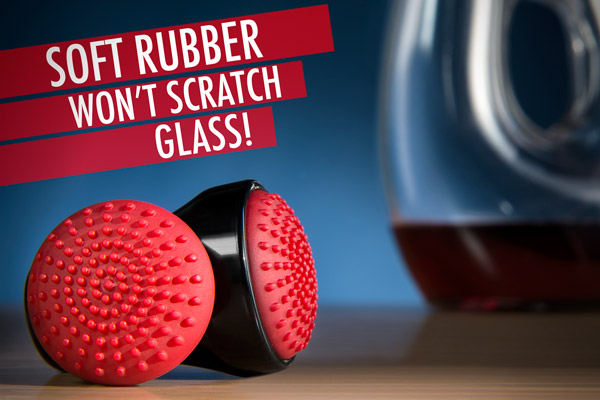 Colors

Black
1614

Green
1614

Orange
1614

Pink
1614
Well, Does It Work? Yes!
Instead of it being a chore to clean glassware, it actually became kind of fun. With very thin, delicate glassware, the scrubber was a bit harder to maneuver around since the magnetic attraction was so strong, but it still did a good job of helping scrub out all the red wine sediments sitting on the bottom of my decanter. I also loved that this little guy was easy to rinse, dry off, and store since it's so small, especially compared to a bulky cleaning brush that takes forever to dry. I'm ecstatic that someone finally came up with such a simple yet absolutely genius idea!
The magnetic glass eraser is composed of 2 pieces: the magnetic scrubber and the magnetic handle
Both components have a nubbed rubber scrubber for cleaning dried on stains
Cleans glass but will not scratch or crack it; large handle for comfortable grip
Easy to use, simply place the scrubber inside the glass vessel and align the magnetic handle from the outside
You can control where the scrubber goes with the Magnetic Spot Scrubber using the magnetic handle
Diameter 3,2 cm diameter - Weight: 41 g
Soft scrubber won't scratch glass
Hand rinse (dishwasher not recommended)
Compact and easy to store
Available in black, green, orange and pink
Technical Specifications:
| | |
| --- | --- |
| Magnosphere - Artikel number | 1614 |
| Form / Model | Magnetic Spot Scrubber |
| Material | a spot scrubbing knob and a silicone scrubbing disc |
| Housing | ABS plastic, strong magnet (N35) |
| Dimension | 3,2 cm diameter |
| Color | black, green, orange, pink |
| Weight | 41 g |
| Application | Fill whatever glassware you need to clean with warm, soapy water. Drop in the smaller half of the magnet. Use the other half of the magnet to guide the scrubber around the inside to clean it. Rinse out the glassware and you're done! |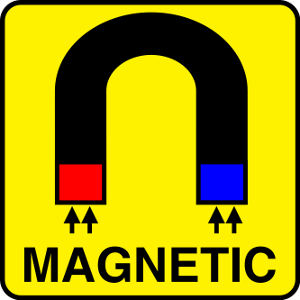 Magnetischer Karaffenreiniger erhältlich in Schwarz, Grün, Orange, Rosa und Rot - Vorstellung