Magnetic Toolbox Tray 210 x 110 x 85 mm, pull 3 kg
- Ideal for attaching to toolboxes or larger metal objects -
A very handy way to add some extra storage space to your work area. Trays can be attached to your toolbox, inside your van, to the side of the vehicle while you work etc. Magnets and contact points are covered with rubber to prevent scratches.
Attach to any flat steel surface for quick and easy tool access. Complete with rubber feet that will not scratch painted surfaces. If you've ever misplaced an important part or tool during a repair job, you know how useful these can be! Super-strong magnets with no-scratch rubber cushions that stay where you put them Ideal for attaching to toolboxes or larger metal objects, lets you separate parts for easier reassembly and less confusion. Simple but effective time and frustration-savers.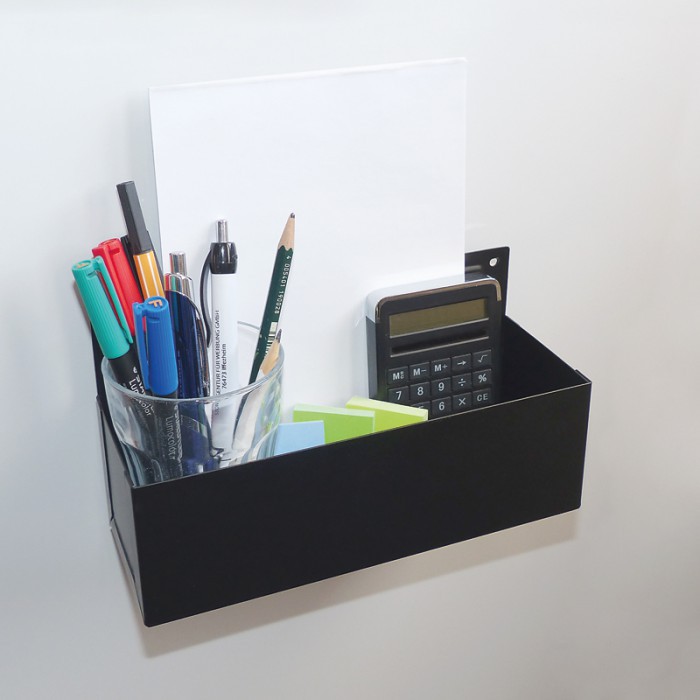 Features
Tool box
Ideal for holding small items like nails, bolts, screws, or larger items like cans, bottles, and tools
Portable and easily removed from metal surface to transport tools, hardware and other items to the job site
Moving multiple tools or items to the work area is fast and easy
Powder coated steel construction
Black finish
Capacity can be influenced by the thickness and finish of attaching surface

Manufactured after 2013/01/01, The object of the declaration described above is in conformity with DIRECTIVE 2011/65/EU OF THE EUROPEAN PARLIAMENT AND OF THE COUNCIL an the restriction of the use of certain hazardous substances in electrical and electronic equipment.
Technical Specifications:
| | |
| --- | --- |
| Magnosphere - Artikel number | 1608 |
| Form / Model | Magnetic Tray |
| Material | Powder coated steel construction |
| Dimension | 210 x 110 x 85 mm. |
| Color | black |
| Weight | 745 g |
| Application | Ideal for holding small items like nails, bolts, screws, or larger items like cans, bottles, and tools |
| Pull | 3 kg |