Magnetic Rod Round Cylinder Magnet Ø 10 x 40 mm Neodymium N40 Nickel - Force 4,5kg
Super Strong NdFeB Rare Earth Cylindrical Magnets
These magnetic rods can be quite useful and quite amusing. They are great for making unique magnetic sculptures . These rods are axially magnetized, so the strong North/South poles are in the center of the flat sides. The metal coating is durable, but ALL Neodymium magnets can chip or shatter. If used gently, these magnets can serve you for a lifetime.
Rod magnets have a magnetic length which is larger than their diameter. This enables the magnets to generate very high levels of magnetism from a relatively small surface pole area. These magnets have high 'Gauss' values because of their greater magnetic lengths and deep depth of field, making them ideal for activating reed switches, Hall Effect sensors in security and counting applications. They are also ideal for educational, research and experimental uses.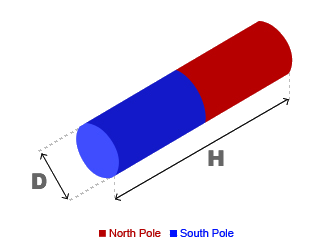 These neodymium rod magnets may be small but they have an astonishing pull. Every magnet has a triple coating of nickel, copper and nickel again to superior corrosion resistance and provide a smooth and clean finish. Our neodymium magnets have many creative uses including modelling and theatre design, furniture making, exhibitions, displays and packaging. They also have many uses in engineering and manufacturing where small size and maximum strength are required.
Small, Powerful and Very Versatile
These cylindrical rod neodymium magnets are easy to handle and really economical for a varieties of usage, eg:
box closure
photo wall
magnetic game piece
secure RC car shell
magnetise arms and attachment of scale models (especially, robots, tanks, aircraft), art and crafts
or even as an executive desktop toys.

Attention:
Neodymium magnets are extremely powerful. Crushing and bruising injuries can occur when handling these magnets, especially the larger ones. When two magnets collide together, small pieces can be broken off and cause injury. For these reasons the magnets should be handled carefully and they should definitely not be allowed to crash into one another from a distance. Magnets should never land in children's hands because swallowing them can lead to serious medical problems.
Particularly the larger neodymium magnets should never be stored or used near devices or objects that can be damaged by magnetism. This can include, among others, televisions and monitors, credit cards, bankcards, computers, data storage devices of all kinds, video and music cassettes, mechanical clocks and speakers. A large magnet can also disturb heart pacemakers. When in doubt you should exercise caution!