Office magnet 55 x 22,5 x 8,5 mm Ferrite
10 assorted colors - 10 pieces
- ideal for planning purposes, graphics and holding notes against ferrous metal noticeboards -
Our powerful ceramic magnet will hold up to a 12 page report on any steel surface. Each magnet has a convenient write-on / wipe-off surface for labeling. To write on them us a damp erase marker like you would use on an overhead projector, then wipe it off with a damp cloth. Need damp erase markers? We have those too.
This rectangular magnet is ideal for planning boards. They can also indicate a status on a communication or visualisation board. The magnetic rectangles are large enough to make any status visible from a distance. This magnet is writable over the entire surface. You can also easily erase the written text when using a whiteboard marker. Another use could be as a header on your Visualisation board, by writing on them with a whiteboard marker or by affixing a title sticker on them (label maker / Dymo writer).

These are extremely strong magnets and hold multiple sheets of student artwork, test results, important notices or whatever securely on the refrigerator. These should hold up just about any piece you need to hold up on any steel object. A solid quality product you will enjoy for a long time. Allow for a hint of design and elegance in your office with these hip, extra strong and durable ferrite magnets. The elegance of its softly curved edges and its slightly textured surface is visually appealing. Thanks to its ergonomic grip and outstanding adhesive force it achieves full functionality as well.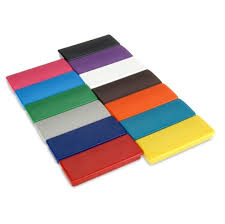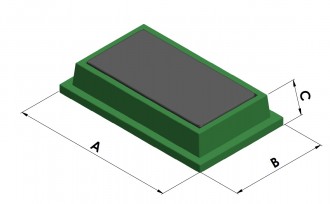 10 assorted colours
Strong magnetic adhesion
Writable surface
Ideal for communication / planning boards (for a certain status)
Also perfect as a coloured header
Force/Adherence: 1,5 kg
Total width: 22,50 mm | Total height: 8,50 mm | Total lenght: 55,00 mm
Magnetization grade: Y35
Colour: 10 assorted colors, red, black, brown, yellow, white, pink, blue, gray, green and purple
Material: Ferrit covered with light-fast ABS plastic
Technical Specifications:
| | |
| --- | --- |
| Magnosphere - Artikel number | 2196 |
| Form / Model | Office magnet |
| Material | Ferrit covered with light-fast ABS plastic |
| Housing | ABS plastic |
| Dimension | Total width: 22,50 mm | Total height: 8,50 mm | Total lenght: 55,00 mm |
| Color | 10 assorted colors, red, black, brown, yellow, white, pink, blue, gray, green and purple |
| Tolerance | + / - 0,1 mm |
| Adhesion | 1,5 kg |
| Application | Ideal for communication / planning boards (for a certain status) |