Office magnet 55x22,5x8,5 mm Neodymium 6 assorted colors, holds 4,8 kg
Marker magnets are perfect for use on motivational, memo and notice boards in the office and home. The strong marker magnets are designed to hold your documents whilst maintaining visibility of the magnet. They are easy to attach and remove so are perfect for notice boards in meeting rooms, school classrooms, kitchens, the office and home.
The magnets are ideal for white boards, notice boards, planning charts and fridges. Inside the plastic casing lies a small but powerful neodymium magnet, which provides a safe position. In the classic round shape of this is quite small magnetic reside a surprisingly powerful magnet, which is not commonly available.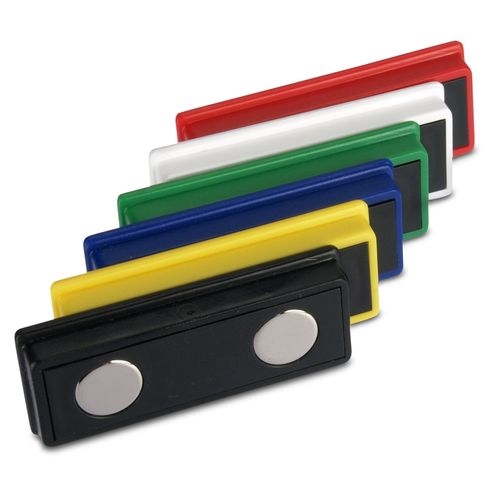 Manufactured after 2013/01/01, The object of the declaration described above is in conformity with DIRECTIVE 2011/65/EU OF THE EUROPEAN PARLIAMENT AND OF THE COUNCIL an the restriction of the use of certain hazardous substances in electrical and electronic equipment.
Force/Adherenc: 4,800 kg / 36 N
Total width: 22,50 mm | Total height: 8,50 mm | Total lenght: 55,00 mm
Magnetization grade: N35
Colour: 6 assorted colors, blue, red, green, white, black and yellow
Material: Neodym
Technical Specifications:
| | |
| --- | --- |
| Magnosphere - Artikel number | 2192 |
| Form / Model | Office magnet |
| Material | Neodymium covered with light-fast ABS plastic |
| Housing | ABS plastic |
| Dimension | Total width: 22,50 mm | Total height: 8,50 mm | Total lenght: 55,00 mm |
| Color | 6 assorted colors, blue, red, green, white, black and yellow |
| Tolerance | + / - 0,1 mm |
| Adhesion | 4,8 kg |
| Application | Ideal for communication / planning boards (for a certain status) |