Portable Electronic Magnetic Pole Detector - North Pole and South Pole Identifier
This Electronic Pole Detector comes with Red and Green Led Light to indicate the north or south pole of a permanent magnet.
To use this tool to identify the north and south poles of a permanent magnet, following the steps below
Press and hold the black oval button.
Close and point the tip of the detector to the magnet pole you want to identify.
If the Red LED lights up, then it is the north pole. If the Green LED lights up, it is the south pole.

This pole identifier is guaranteed to be 100% accurate. It can be used to test all the permanent magnets, including rare earth magnets such as neodymium magnets, SmCo magnets, AlNiCo magnets, Ceramic magnets. At home, you can test the poles of your refrigerator magnets, magnetic pushpins, the security sensors which made of magnets, etc.
If it is the North Pole, the Red LED will glow If it's the South Pole, the Green LED will glow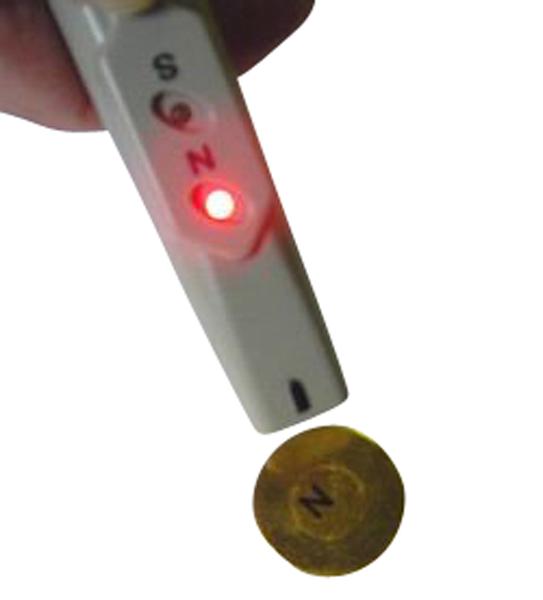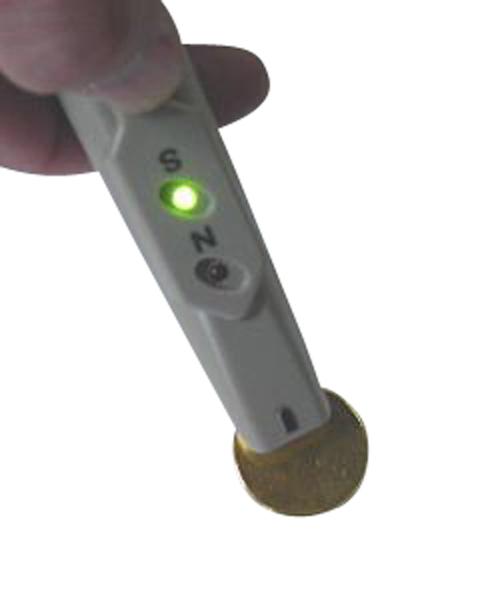 It's just that simple. And if the button is held and the unit is moved around the surface of the magnet....you can see the transition from one pole to another.

Applications:
Pole detection of permanent magnets
Test the strength of magnetic fields in a package
Coil testing
Post-magnetization polarity checks
Electric motor assembly
Installation of magnetic clamping blocks
Error Analysis
Multipole magnet quality control
Pole detection of therapy magnets.
Helps with the following tasks:
Electric motor assembly
Installation of magnetic clamping blocks
Error Analysis
Multipole quality control
Pole detection of therapy magnets
Product Data Sheets:
Dimensions: Approx. 5.6" x 0.9" x 0.8". Tip measurement, 1/2" x 1/2"
Weight: approx. 0.08 lb with batteries.
Indicator: two LED display (green= south, red=north)
Sensitivity: ±15mT on/off hysteresis
Operating temperature range: -10°C ~ +50°C
Storage temperature: -20°C ~ +70°C
Battery: 4 x 1.5v button cells (included)
Dimensions: Approx. 5.6" x 0.9" x 0.8". Tip measurement, 1/2" x 1/2"
Weight: approx. 0.08 lb with batteries.
Indicator: two LED display (green= south, red=north)
Sensitivity: ±15mT on/off hysteresis
Operating temperature range: -10°C ~ +50°C
Storage temperature: -20°C ~ +70°C
Battery: 4 x 1.5v button cells (included)
Technical Specifications:
| | |
| --- | --- |
| Magnosphere - Artikel number | 1283 |
| Form / Model | Portable Electronic Magnetic Pole Detector |
| Material | Housing PVC |
| Dimension | Approx. 5.6" x 0.9" x 0.8". Tip measurement, 1/2" x 1/2" |
| Shape | Pin with clip |
| Color | grey |
| Weight | 0.08 lb with batteries |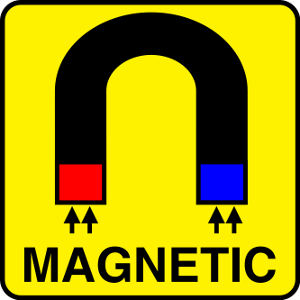 Elektr. Magnetpolsucher, Magnetpolprüfer mit LED Leuchten, ± 15 mT on / off - Vorstellung