Cylindrical Angled Mitre Magnets, North Ø 10 x 30 mm, Neodymium - Force 3,6 kg
Super Strong Rare Earth Magnet (NdFeB)

Neodymium magnets are the strongest magnets in the present time, their power is such that it is imperative to handle them with the utmost caution (risk of pinching, depending on the size of the magnet), please do not leave within reach of children. They are made ​​from neodymium-iron-boron, the maximum temperatures of use of magnets we sell is 80 ° C (we are able to provide, upon request, neodymium magnets whose max temp of use up to 150 ° C). All magnets that you will find in our online shop have an axial magnetization. On request, we are also able to sell magnets of other materials (AlNiCo, SmCo) supporting higher temperatures but whose power is less than that of neodymium.
Ultra High Perormance mitre magnets have a 45 degree mitre bevel on one face and have exciting possibilities for magnet motor designers and inventors as the magnetic field leans towards the shortest side of the magnets creating an unequal flux path and a different flux density on each of the 2 poles. These magnets will have approximately 6000 Gauss on each face. Each magnet can support a steel weight of up to 3.6kg vertically from the magnetic face when in flush contact with a mild steel surface of equal thickness to the magnet. Each magnet can also support up to 0.72 kg in a shear position before beginning to slide down a steel surface under the same conditions.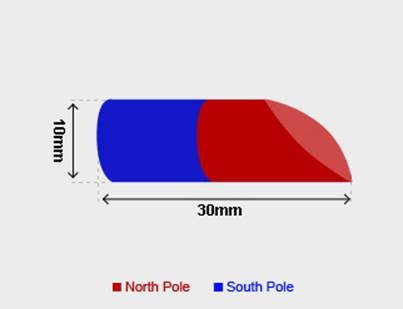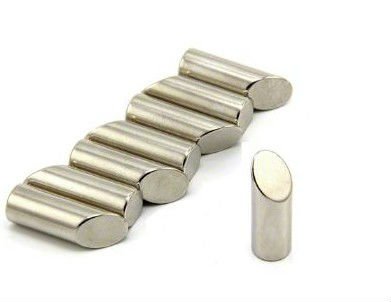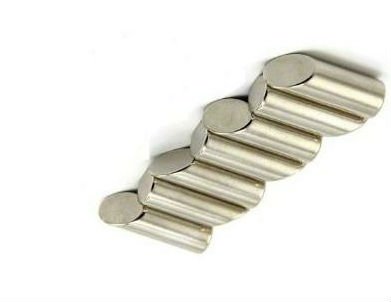 Manufactured after 2013/01/01, The object of the declaration described above is in conformity with DIRECTIVE 2011/65/EU OF THE EUROPEAN PARLIAMENT AND OF THE COUNCIL an the restriction of the use of certain hazardous substances in electrical and electronic equipment.
Mitre magnets, Cylindrical bar magnet with mitre 45 ° North, 10 mm dia x 30 mm N42
Diameter: Ø 10 mm
Length: 30 mm
Shape: Stick with miter 45 °
North Pole: 45-degree face
South Pole: 90-degree face
Magnetization: North
Coating: Nickel (Ni-Cu-Ni)
Max temperature: 80 ° C
Force: 3,6 kg
Gaus: 6000
Sliding resistance: 0.72 kg
| | |
| --- | --- |
| Product code: | 1919 |
| Packing size: | 4 |
| Shape | bar magnet with miter 45 ° |
| Diameter: | Ø 10 mm |
| Length: | 30 mm |
| Material: | Neodymium (Rare Earth) |
| Coating: | Nickel (Ni-Cu-Ni) |
| Sliding resistance: (Kg): | 0,72 |
| Magnetization: | North |
| Max. Temperatur: | 80 °C |
| Force: | 3,6 kg |
| Gaus: | 6000 |