90° Fixed Magnetic Welding Clamp
Fast, cost-effective way to hold workpieces at rigid 90 degree angle during fabrication, assembly and weld preparation. Two magnetic faces in a rigid 90º angle for jigging on sheets, pipes and tubes. All 90º Fixed Clamps are length x height x width / pull. Measurements are in inches; holding value is in pounds.
Contains powerful ferrite magnets. Large clamp has cam levers to assist removal from workpieces. Casing is non-magnetic to minimise stray magnetism and reduce the possibility of attracting weld spatter.
Angular tolerance: plus/minus 0.05/100mm

Product Range:
| Product | Height (mm) | Length (mm) | Weight (kg) | Width (mm) | Maximum Pull | |
| --- | --- | --- | --- | --- | --- | --- |
| Magno - 140 | 140 | 140 | 1.4 | 35 | 40 | |
| Magno - 225 | 225 | 225 | 2.2 | 22 | 75 | |
| Magno - 300 | 300 | 300 | 4.7 | 35 | 200 | |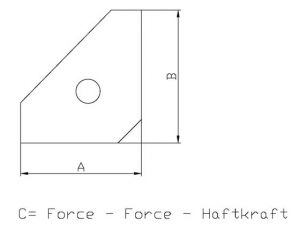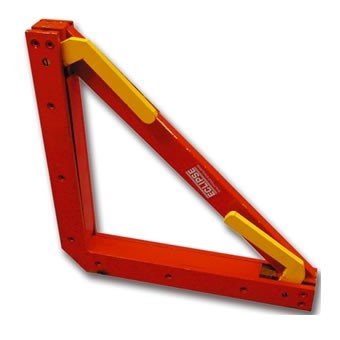 Fixed Magnetic Welding Clamp, 90°, force 40-200kg
Application: Fixed angle 90°
Dimension: 11.81 in. x 11.81 in. x 1.38 in. / 440 lb. pull 90º Fixed Clamps
Tool Body Material: Metal
Clamping Force: 40 kg -200 kg
Weighs: 1,4 kg - 4,7 kg
| | |
| --- | --- |
| Item Number: | 1351 |
| Packing quantity: | 1 Fixed Magnetic Clamp 90° |
| Tool Body Material: | Metal |
| Color: | red |
| Weight (kg): | 1,4 - 4,7 kg |
| Securing | magnetic tool holding |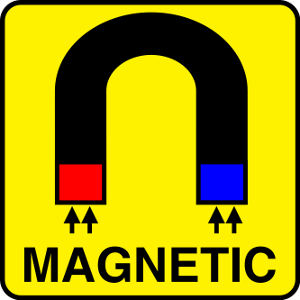 Magnetischer Schweiss- und Montagewinkel 90°, Haftkraft 40kg - 200kg - Vorstellung