Wrap Around Magnetic Document Pockets A4 to A6
- Unique magnetic looped header wraps around the mesh of the cage -
These coloured magnetic pockets help protect and highlight documents and important messages, perfect for use on magnetic whiteboards and most other steel surfaces. Transform your magnetic whiteboards with these high quality brightly coloured magnetic document holders and pockets.
One of the hallmarks of any efficient warehouse or stockroom is the effective management of the relevant documentation. Whilst it is not always necessary to view the relevant documents when dealing with stock, it is important for staff to know that when they need to, they can. Our document holders are the ideal way to keep them safe.
In a physical working environment like a warehouse, it is extremely easy for single pieces of paper to get lost or accidentally torn. These pockets are designed to be attached to either industrial roll cages or mesh containers, and is a much better way to keep paper safe than the old fashioned method of simply taping the paper to the cage! Manufactured using tough, durable plastic, these document pockets are a long-term investment for the admin-conscious warehouse.
They are available in the three most common paper sizes: A4, A5 and A6, meaning that as a general rule they will suit almost any company documentation.
Any working environment that makes use of larger roll cages will be able to take advantage of these document pockets. They are popular in the retail sector, where all order data has to be checked and double-checked, lest the retailer run out of stock, and with distribution centres, due to the constant in-and-out ordering process that takes place within them.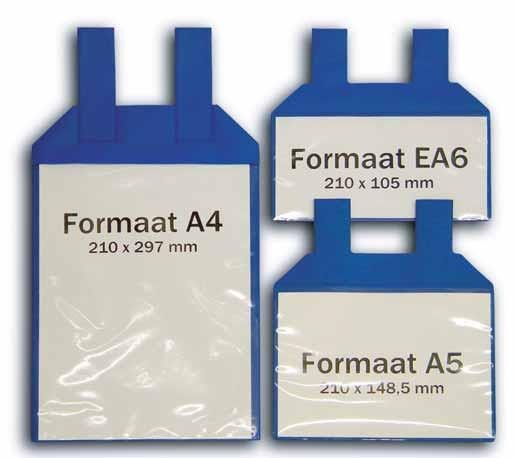 Key Features:
Designed for industrial roll cages or mesh containers
Three information pockets manufactured in tough plastic
Available in sizes A4, A5 and A6
Suitable for all rollcages
Magnetic document holders/pockets blue - A4, A5 or A6

Transform your magnetic whiteboards with these high quality brightly coloured magnetic document holders and pockets

Fabricated in durable hardwearing & washable plastic
Optional transparent covers to protect contents
Other magnetic pocket colours & sizes available on request
Technische Spezifikationen:
| | |
| --- | --- |
| Magnosphere - Artikelnummer | 1699 |
| Form / Modell | Magnetic Coloured Document Holders |
| Dimension | A4, A5 or A6 |
| Color | blue |
| Toleranz | + / - 0,1 mm |
| Max. Einsatztemperatur | 55°C |
| Application | Perfect for displaying important information in shops restaurants, libraries, general workplace and in particular 5S and LEAN manufacturing environments. |