High strength magnetic tape
Acrylic adhesive bonds to many surfaces
Flexible tape attaches to irregular surfaces
Unique design eliminates cracking and increases durability
Simply cut with scissors to suit your application
Industrial uses include:
mounting signage, building displays, securing metal doors, and attaching tools to machinery.
Manufacturing applications include:
attachments in containers, baggage, garments, door seals, and electronics. Arts and crafts and household uses include: hanging artwork, and window coverings, temporary attachment of seasonal decorations, and labeling. The acrylic adhesive also provides excellent adhesion to surfaces contaminated lightly with oil typically used with machinery parts.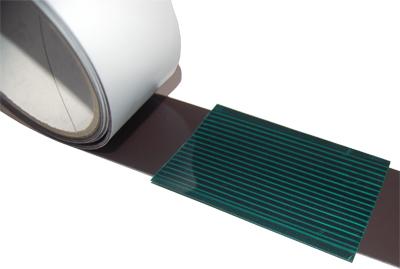 Haftkraft g/cm2 gemessen bei direkter Verbindung | ohne Luftspalt

Materialstärke | Magnetisierung

Haftkraft g/cm2

0,3 mm

14 g/cm2

0,4 mm

32 g/cm2

0,5 mm

37 g/cm2

0,6 mm

39 g/cm2

0,7 mm

40 g/cm2

0,8 mm

52 g/cm2

0,9 mm

80g/cm2

1 mm

83 g/cm2

1,5 mm

92 g/cm2

2 mm

105 g/cm2

3,2 mm

180 g/cm2
Create magnetic visuals. Cut tape to size, peel backing and adhere to paper, cardboard or plastic. Stick magnetic side to metal surface. Organize and customize magnetic planning boards with numbers, letters, headings and symbols that are easily movable for quick updates.