Decoration Ferrite Magnet 53 x 27mm with hook
and white plastic housing - holds 18 kg
- ideal for hanging signs and decorations from a steel ceiling -
Large, white painted ferrite magnetic hook. This discreet design makes them perfect for hanging signs or decorations from ceilings.
These discreet, white ferrite hook magnets are great value for money and ideal for hanging signs and decorations from a steel ceiling and are commonly used in shops to suspend advertising signs. The ferrite magnets are sunken in to a steel shell meaning that the north pole is on the centre of the magnetic face and the south pole is on the outer edge around it. The steel pot increases the adhesive force of the magnets giving them an incredible hold for their size.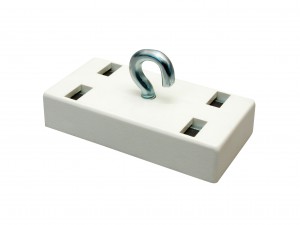 Manufactured after 2013/01/01, The object of the declaration described above is in conformity with DIRECTIVE 2011/65/EU OF THE EUROPEAN PARLIAMENT AND OF THE COUNCIL an the restriction of the use of certain hazardous substances in electrical and electronic equipment.
Overall width: 27.50 mm | Overall height: 28.00 mm | Length: 53.00 mm
White plastic housing
With hooks
Magnet Material: Ferrite or neodymium
Strength: 18 kg / 40 kg
Technical Specifications:
| | |
| --- | --- |
| Magnosphere - Artikel number | 1566 |
| Form / Model | Decoration Magnet |
| Material | Ferrite or neodymium over the magnets. |
| Housing | white plastic housing |
| Dimension | Overall width: 27.50 mm | Overall height: 28.00 mm | Length: 53.00 mm |
| Color | White |
| Tolerance | + / - 0,1 mm |
| Adhesion | 18 kg / 40 kg |
| Application | Ideal for hanging signs and decorations from a steel ceiling and are commonly used in shops to suspend advertising signs |