Design-Magnet Acrylic Ø 25 mm (6 pieces) - holds ca. 2.5kg
- Adaptable to all backgrounds via a chameleon effect -
Design magnets are made from polished, transparent acrylic with set-in neodymium magnets. This is a combination for applications in which a magnet is supposed to remain discretely in the background. Inserted without any glue, the neodymium magnet has an especially strong holding power. The grip is ideally proportioned and is easy to handle. Because they are transparent, they match any background, which means they can be used universally and do not distract from the item they are holding.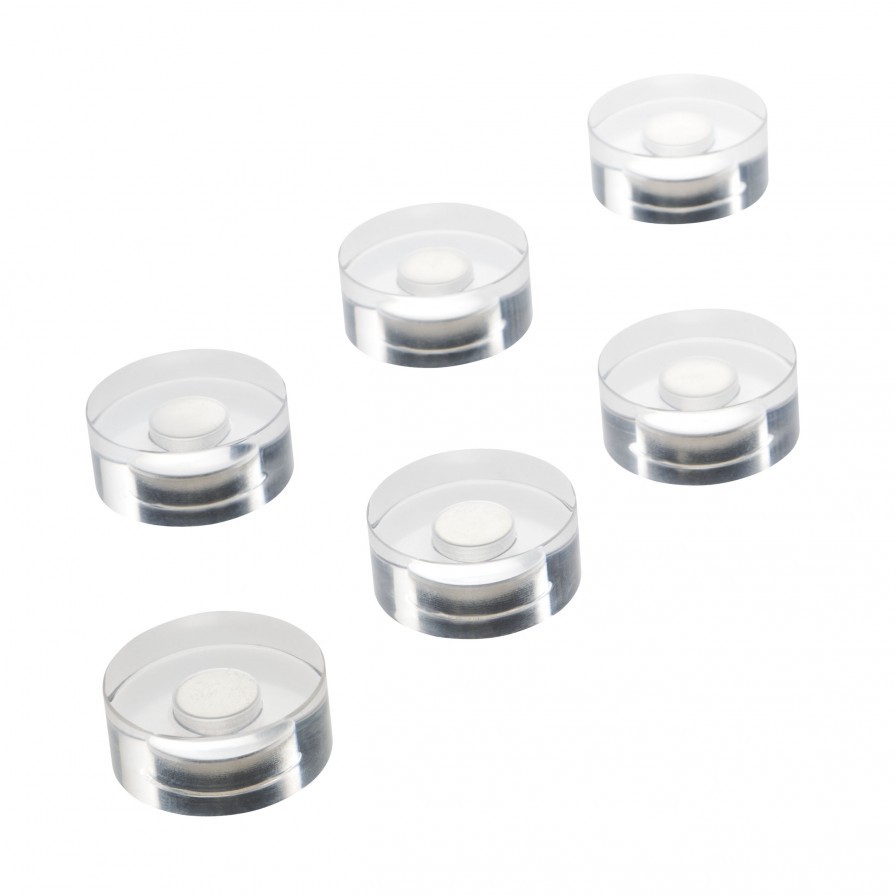 A subtle, unique design
Transparent, light, silver and strong
The neodymium magnet is surprisingly strong
The adhesive proportions and strong magnetic force are carefully harmonized
No adhesives are used
The transparency of the magnet holder gives it an unobtrusive appearance
The magnet holder does not distract from the object that is held
Adaptable to all backgrounds via a chameleon effect

Manufactured after 2013/01/01, The object of the declaration described above is in conformity with DIRECTIVE 2011/65/EU OF THE EUROPEAN PARLIAMENT AND OF THE COUNCIL an the restriction of the use of certain hazardous substances in electrical and electronic equipment.
Force/Adherence: 2,5 kg / 18 N
Total height: 11,00 mm
Total diameter: 25,00 mm
Material: Acryl-Glas
Weight: 65 g
Technical Specifications:
| | |
| --- | --- |
| Magnosphere - Artikel number | 1565 |
| Form / Model | Design Magnets |
| Material | Acryl-Glas |
| Dimension | Total height: 11,00 mm Total diameter: 25,00 mm |
| Color | clear |
| Tolerance | + / - 0,1 mm |
| Adhesion | 2,5 kg |
| Application | for applications in which a magnet is supposed to remain discretely in the background. |
| Weight | 65 g |