Electromagnetic Door Lock, pull 60 kg
This is a very simple Magnetic Door Lock that is powered at 12VDC. It consists of a magnet, a steel plate and mounting accessories. When power is provided, the two parts bond together strongly until the power is cut off. Perfect for securing cabinets, doors, or to allow your robot to secure payload to its chassis, as an example.
Size Magnet: 80mm x 41mm x 24mm
Size Plate: 75mm x 35mm x 10mm
Holding force: 60kg
Voltage input: 12V DC, 210mA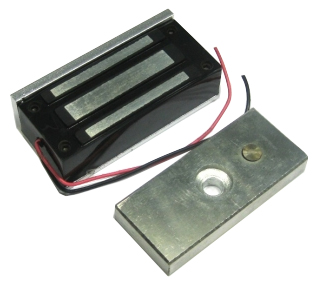 Manufactured after 2013/01/01, The object of the declaration described above is in conformity with DIRECTIVE 2011/65/EU OF THE EUROPEAN PARLIAMENT AND OF THE COUNCIL an the restriction of the use of certain hazardous substances in electrical and electronic equipment.
Magnet dimension: 8cm x 3.8cm x 2.9cm
Plate dimension: 7.5cm x 3.3cm x 1.1cm
Very simple electromagnetic door lock
Holding force: 60kg
Voltage input: 12V DC, 210mA
Technical Specifications:
Magnosphere - Artikel number

1606

Form / Model

Magnetic Door Lock

Material

magnet, a steel plate and mounting accessories

Dimension

Magnet dimension: 80mm x 41mm x 24mm
Plate dimension: 75mm x 35mm x 10mm

Material:

Alumium housing

Adhesion

60 kg