Handle Magnet with Magnetic Shield
Lifts up to 100lb (100 x its own weight). Lifts large pieces of sheet metal easily, and cleans up screws, nuts and bolts. Comfortable non-slip rubber over-moulded grip. Supplied with magnet shields.
Red and black handle magnet — 45 kg pull with magnetic shield. 5in.L x 3 1/2in.H x 1in. thick. Comes with two magnetic shields to block the magnetic strength when the magnet is not in use. Great for retrieving and moving metal items such as shelves, sheeting and pipes. Ceramic magnets are incased in a durable red plastic shell with easy grip rubber handle. Lifts up to 45 kg. Under normal use, permanent magnetism guaranteed.
NOTE: Pounds pull is rated by vertical test and rating will be reduced if the item you wish to lift is thinner, painted, or an uneven surface.
Handle Magnet with Magnetic Shield, Red and black handle magnet
Total weight: 370 g
Shape: Retrieving magnet
Material: Ceramic magnet
Handle Length (in.): 5
Height (in.): 3 ½
Dimension L x W (in.): 5 x 3 1/2
Strength: 45 kg
| | |
| --- | --- |
| Product Code: | 1294 |
| Pack size: | 1 |
| Shape: | Retrieving magnet |
| Color: | Red and black handle magnet |
| Dimension L x W (in.): | 5 x 3 1/2 |
| Handle length (in.): | 5 |
| Height (in.): | 3 1/2 |
| Total weight: | 370 g |
| Magnetic force: | 45 kg |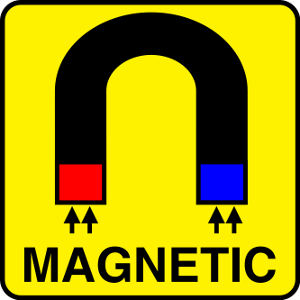 Handlicher Magnetgriff, Tragemagnet, Haftkraft 45 kg, 1 Stück - Vorstellung