Lifting Magnet
With 5 sizes available, the Ultralift Plus lifting magnet is suitable for lifting a wide range of loads in the factory or workshop. It's capable of lifting both round and flat section loads.
The Ultralift Plus uses high power neodymium 'rare earth' magnet material for the highest power to weight ratio. The material is permanently magnetic, and switching the Ultralift Plus on and off is manual, so no power is required and it has no operating costs. You can use it almost anywhere - just hook it to your hoist or crane.
With a lifting magnet a load can be hoisted safely by just one man. And you'll have no more worries about the stability of a load once it's lifted (especially when it's been pre-tested to ensure a 3:1 safety factor with the 'Safety Shim'). Storage of handling of loads can be more efficient as you only need access to a load's top face.
Product Range:
| Product | Diameter Max | Length Max (mm) | SWL (flat section) | SWL (round section) | Weight (kg) | |
| --- | --- | --- | --- | --- | --- | --- |
| Magnosphere (UL0275+) | 200 | 1500 | 125 | 50 | 4 | |
| Magnosphere (UL0550+) | 300 | 1500 | 250 | 100 | 11 | |
| Magnosphere (UL1100+) | 400 | 1500 | 500 | 200 | 27 | |
| Magnosphere (UL2200+) | 450 | 1500 | 1000 | 400 | 63 | |
| Magnosphere (UL4400+) | 600 | 1500 | 2000 | 800 | 157 | |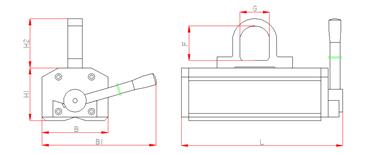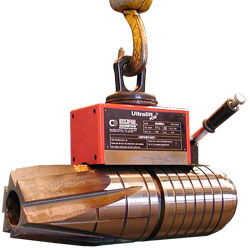 Ultralift Plus lifting magnet "Ultra+" from 125 kg - 2000 kg - 2t Capacity
Dimension (mm): Length A: 101 mm to 368 mm, Length B: 155 mm to 477 mm, Width C: 67 mm to 233 mm, Height C: 74 mm to 227 mm
Tool Body Material: Metal
Magnet Type: Lifting both round and flat section loads
Weighs (kg): 4 kg
Magnetic Pull (kg): from 125 kg - 2000 kg - 2t Capacity
SVHC: No SVHC (16-Dec-2013)
| | |
| --- | --- |
| Item Number: | 1343 |
| Packing quantity: | 1 Lifting magnet |
| Dimension: | Length A: 101 mm to 368 mm, Length B: 155 mm to 477 mm, Width C: 67 mm to 233 mm, Height C: 74 mm to 227 mm |
| Color: | red |
| Weight (kg): | 4 |
| Magnetic Pull (kg): | 125 kg - 2000 kg - 2t Capacity |
| Securing | magnetic lifting tool |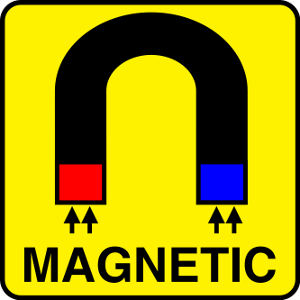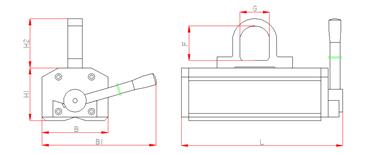 Lasthebemagnet, Magnet-Lastenheber "Ultra+" von 125 kg - 2000 kg - 2t Tragkraft - Vorstellung