Magnet with key ring neodymium Ø 10mm x 16mm - holds 2,4 kg
- will eliminate your need to look for your keys in the house for good! -
Pocket Magnet is a handy, magnetic tool that identifies valuable, ferrous materials such as iron and steel. It is perfect for scrap testing and recycling. Keyring magnet assembly, helps you make fast assessments jewelry, antiques, and industrial metals. Carry it everywhere!
Find jewelry that is silver or gold plated if ferrous metals are used as the base metal (excluding some nickel alloys). If a magnet responds to jewelry, it is not fine silver or anything near pure gold. Same goes for brass and bronze antiques, many are just brass plating over a steel or iron core.
The magnet can also be used to determine polished aluminum from stainless steel in most cases, and is very handy for testing industrial metals for recycling. Metal recyclers, pawn shop owners, jewelers and treasure hunters should keep this on their key chain at all times.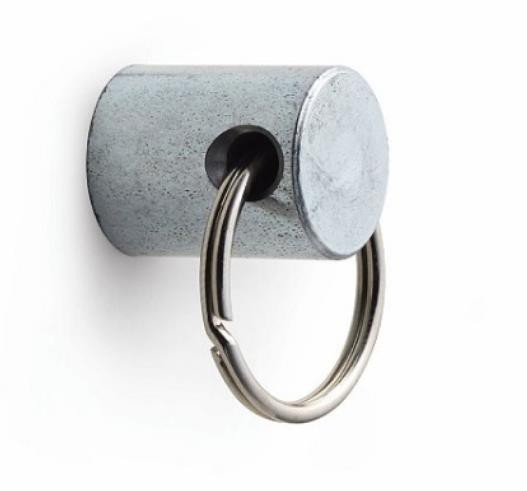 Use it for
Hanging Keys; attach to your keyring and hang on any plain/painted steel surface (even stainless steel in most circumstances). It easily held a set with a large carabiner and at least 20 keys.
Hanging notes, pictures, blueprints, etc.
Identifying and sort steel grades and metal alloys that contain iron, nickel, or cobalt
Identifying fake/plated jewelry, which often uses steel as the base metal
Identifying solid brass and bronze antiques (replicas are usually brass coated steel or iron)
Magic tricks and science experiments
Innumerable other uses
Neodymium Magnet with Keyring
Strength: approx. 2,4 kg
Diameter: 10 mm | thickness 16 mm
Key Ring: Ø 24 mm
Pull force: 2,4 kg
Technical Specification:
| | |
| --- | --- |
| Magnosphere - Artikel number | 1518 |
| Form / Model | Magnet with keyring |
| Material | Neodymium |
| Diameter Key Ring | 24 mm |
| Diameter | 10 mm |
| Height | 16 mm |
| Tolerance | + / - 0,1 mm |
| Adhesion | ca. 2,4 kg |