Magnet Cubes | Magnetic Geometry Puzzle | 80mm x 80mm x 80mm
- build a rhombic dodecahedron, explore symmetry and colour combinations -
An attractive design for the home, office or classroom. Internal magnets guide and hold the colorful pieces together. Challenging yet easy to learn and satisfying to master.
These "Magnetic Blocks" are 24 equal building pieces which can be used to create 3D-shapes. All exterior surfaces stick together magnetically.
The side length of the cube is 8 cm. This is also the length of every hypotenuse of the 24 Blocks. Using the colorful Blocks kids can create the most diverse shapes. Also, the "Magnetic Blocks" come with 21 Challenge Cards. Every card contains one challenge of varying difficulty levels. With a challenge on one side of each card, kids can self-control their constructions by looking up the step-by-step solution on the backside of each card.
With the Magnetic Cube kids can independently create mathematical shapes. The playful construction and hundreds of play possibilities awaken innovation and curiosity in kids.
Our Advice: Two players can use the Magnetic Cube together. One player creates a design and has to describe his model verbally. The second player has to use these instructions to re-built the same model. This way, linguistic phrasing of mathematical relations can be exercised.
Using the 24 pieces of the "Magnetic Cube" one can build pyramids, prisms, cuboids, and cube, for example.
Magnetic Blocks: Components in 4 colors
The "Magnetic Cube" can also be used as teaching material. The pieces can explain the concept of surface, area, edge, height, base area etc.
Challenges for the "Magnetic Cube"
The 24 pieces of the "Magnetic Cube" can be used to solve the challenges. 21 cards come with the Cube and contain one Challenge each with the solution on the backside.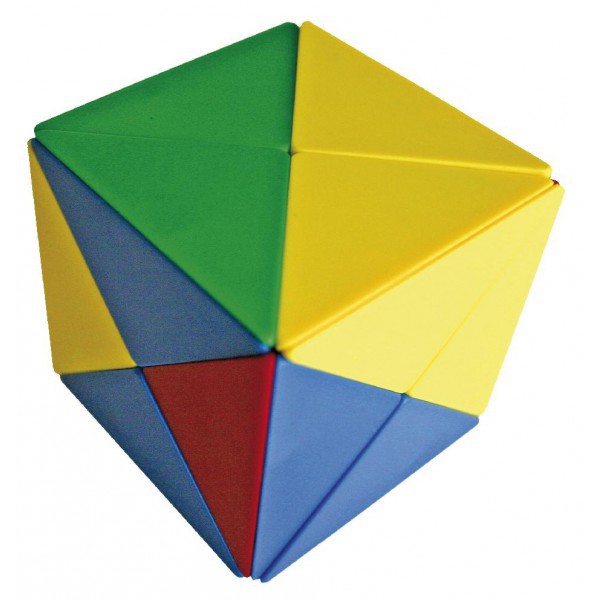 An attractive design for the home, office or classroom
24 equal building pieces which can be used to create 3D-shapes
Dimension:

80mm x 80mm x 80mm

Color: assorted colors

Application:

create mathematical shapes
Technical Specifications:
| | |
| --- | --- |
| Magnosphere - Artikel number | 1549 |
| Form / Model | Magnetic Blocks |
| Material | 24 pieces of the "Magnetic Cube" one can build pyramids, prisms, cuboids, and cube |
| Dimension | 80mm x 80mm x 80mm |
| Color | assorted colors |
| Application | create mathematical shapes |