Magnetic photo holder | Magnetic Photo Rope
with 8 magnets 150 cm long
- Ideal near the desk, phone or front door for messages, notes and photos - simple to hang! -
Magnetic Photo Rope is one of the coolest things we've found. Cool because it's sleek and modern, because it uses tiny, surprisingly-strong magnets, and because it's not yet another boring photo frame. (It's cheaper, too!). And now it's available! The simple and beautiful cable comes with 8 magnets you can use to attach photos, postcards, birthday cards, dental checkup reminders... you name it. The bottom of the cable is weighted to keep it straight, and a loop of cable at the top lets you hang the rope from anywhere.
Magnetic Photo Rope is way nicer than sticking your photos on the fridge, and a whole lot more interesting than a frame.
8 powerful magnets hold photos, documents notes or signs to the rope, making a very attractive display that moves in the breeze to create extra attention. The magnets are extremely strong, and photos are held very securely.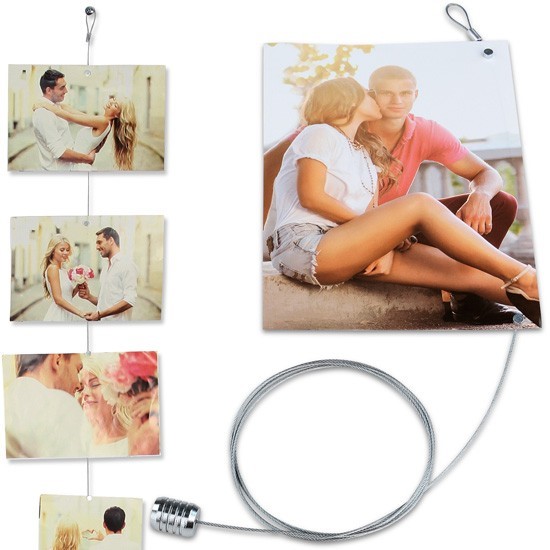 The concept of this rope is incredibly simple but the results are very effective. It is essentially a thin, metal cable which is weighted at the end and comes with several small (but very powerful) magnets. Photos are attached using the magnets and the result is a sleek, modern display that makes an interesting alternative to using picture frames. You can change the display easily, and as often as you like. Sometimes the best designs are the most simplistic.
trim metal line to attach your pics to.
8 tiny, yet so-powerful-they'll- make-you-giddy magnets with which to attach your pics.
A weighted bottom keeps the rope perfectly straight.
Works with photographs of various sizes, greeting cards, postcards, almost anything flat.
No batteries, no gimmicks. Just simple, beautiful, photo fun!
Technical Specifications:
| | |
| --- | --- |
| Magnosphere - Artikel number | 2184 |
| Form / Model | Magnetic photo holder |
| Material | trim metal line to attach your pics to. |
| Dimension | 150 cm long |
| Color | Black |
| Application | Works with photographs of various sizes, greeting cards, postcards, almost anything flat. |