Magnetic Catches and Latches for furniture, doors, cabinets, drawers

Our Magnetic closures for furniture, doors, cabinets, drawers at the best price. The magnetic lock is ultra-thin, suitable for drawers with magnetic doors.
Magnetic Catch Cabinet Door Magnet, Door Latch Magnet
Powerful latch magnet set allows multidirectional and adjustable mounting. Comes with steel strike plate with countersunk holes which can be mounted to a door frame to create a secure magnetic closure. Under normal use, permanent magnetism guaranteed. These powerful magnetic assemblies are designed to be used as door latches for cabinets, chests, displays and more. Simply attach the magnet in a steel cup to one surface and the strike plate to the other to make a secure closure. Counterbore a hole in the wood for flush mounting.
Keep wardrobe and cabinet doors closed with our choice of catches, latches, and stays to suit every project. Our professional-quality products are designed to be easy to fit and last longer, so you can be confident you're ordering quality catches and latches. Ordering in bulk? Our value for money trade prices and discounts for bulk purchases mean our catches, latches, and stays will help you stick to a budget.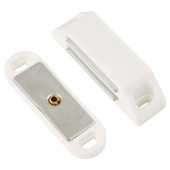 PURCHASE NOW AT MAGNOSPHERE - Magnetic Catch
Wholesale prices: Click here to request quote
---
Who supplies Magnetic Catch Cabinet Door Magnet?
Magnosphere produces magnets at great prices, produced and delivered on time for all areas of industry, automotive, aerospace, electronics as well as in the design sector, trade fair construction, offices and for the home.
We are an ISO certified shop and carry the Trusted Shops seal. We have successfully completed more than 200,000 orders and offer our ever-growing customer base 24/7 customer service.
All items are available for immediate delivery in large numbers with daily dispatch. Our selection is your win! Thousands of satisfied customers! Buy from a company with the highest quality standards and customer service with flexible and diverse payment options and conditions.
We can also custom manufacture these to fit your exact specifications using our in-house global manufacturing facilities and team of experienced engineers. Need high quantities of magnets at the lowest and fairest price possible? Just let us know what you are looking for and contact our Customer Care Team by sending us a request for quote! We'll work with you to determine the most economical way of providing you with what you need.
Trust in our experience and convince yourself of our service and our products and we look forward to welcoming you to our magnet shop at Magnosphere. You are welcome to contact us by eMail: info(at)magnosphere.co.uk. Available 24/7 x 365 and we are also there for you on public holidays! Or just give us a call.
---
ROHS-Directive

Magnosphere conforms to the RoHs directive and the Reach and PFOS regulations. Directive 2002/96 / EC of the European Parliament and of the Council, of January 27, 2003, on waste electrical and electronic equipment (WEEE).
---

We are very proud to offer excellent customer service. We know that without our clients, we would not be here. If you have any questions about your order or something else, please call or email us!: info(at)magnosphere.co.uk
24 / 7 x 365 Including holiday periods! Our customer service team is available to help you!